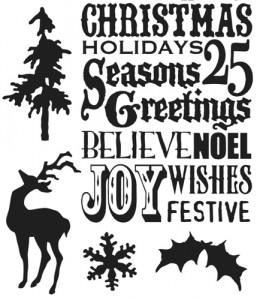 With a little bit of inspiration and a lot of imagination, you can create beautiful scrapbooks this year to commemorate the Christmas season. Photos of loved ones, scraps of your favorite wrapping paper, gift tags, holiday cards and other holiday mementos make excellent pieces for a Christmas scrapbook.
Keep a homemade scrapbook for yourself to reflect on the holidays past, or give a holiday scrapbook as a gift to friends and family. Scrapbooks contain cherished memories that live on for ages. Use some of these supplies and inspirational materials to get great ideas on scrapbooking Christmas layouts.
Christmas Paper Collections
Bo Bunny Press's various Christmas paper collections make the perfect backdrops for holiday scrapbook pages. For example, the Father Christmas collection contains 18 double-sided sheets of holiday themed paper that can be used for a variety of scrapbooking projects. Also included in the pack is journaling card paper and a sheet of cardstock stickers that complement the paper. Other great companies that make Christmas scrapbook paper include We R Memory Keepers and K and Company. Pick a Christmas Paper Collection that matches your style to create a beautiful Christmas memento.
Inspirational Books for Scrapbookers
Finding ideas in inspirational books specifically made for scrapbookers is a great way to see the new trends in scrapbooking, and use ideas that you like in scrapbooks of your own. Suggestions for what to include in your holiday scrapbook, what type of supplies to use and holiday scrapbook layout ideas are all a part of these great books. You can decide to copy a page or two right from the idea book, or twist an idea to make it your own. These books will help you create memorable scrapbooks with beautiful details like borders and other accents.
Cutters
Create your own custom shapes or use readymade designs to accent your holiday scrapbook this year. Using a variety of electronic cutters and cutting software, it's easier than ever to create designs, fonts, accents and more. For more of a traditional look, use die cutting tools to create interesting and textured Christmas-themed cutouts to include in your scrapbook. You can also find Christmas edger punches to make elegant borders for photos and pages.
Scrapbooking Albums
In order to make your scrapbook look professional and beautiful from the very first impression, you'll need to find the right scrapbooking album to house your precious memories. Scrapbook albums come in a variety of materials and designs, so finding one that matches your style shouldn't be took hard. The classic looks for a Christmas scrapbook are red, burgundy, or dark green albums that have a luxurious finish, like a faux suede or leather. These scrapbook albums will protect the inner pages while also adding a touch of class to the entire project.