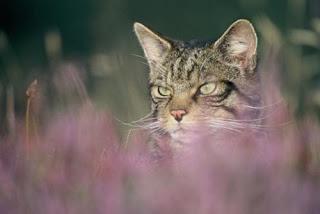 Scotland's largest official wildcat action project is preparing to step up a gear with the launch of an ambitious neutering scheme aimed at stamping out interbreeding and reducing the risk of disease.
Project officers at Scottish Wildcat Action (SWA), which is backed by the Scottish Government, Heritage Lottery Fund, and around 20 other influential organisations, will focus new efforts on the neutering scheme. 
Trap, Neuter, Vaccination and Return (TNVR) sees feral cats in wildcat priority areas neutered to prevent them breeding and transmitting diseases to the precious remaining Scottish wildcats. 
The technique is already widely-used, and is a vital tool in the arsenal to protect wildcats from hybridisation and disease. No cats – feral or otherwise – are harmed in any way, unless for animal welfare reasons a feral cat has to be put down because of illness. Pet cats are not at risk. 
TNVR involves a humane cage trap being set, and trained SWA volunteers will check the trap at least every 12 hours to maximise welfare. Wildcats and pet cats are released and feral cats taken to the vet to be neutered and vaccinated. They are then released where they were caught. 
Scottish Wildcat Action launched last year, operating in six wildcat priority areas across Scotland covering an area of 800 square miles. They are Angus Glens; Strathbogie, Aberdeenshire; Strathpeffer, Easter Ross; Strathavon, Moray; Northern Strathspey and Morvern, Lochaber. 
Roo Campbell, the priority areas manager, said: "The chief threat to the wildcat is interbreeding with domestic cats, many of which are feral, and wildcats will continue to lose their wild identity if this is left unchecked. 
"Scottish Wildcat Action is committed to reducing the risk of interbreeding between wildcats and feral cats. The best way of doing this humanely is by trapping, neutering, vaccinating and then returning feral cats. 
"We were delighted last week to announce that during our initial, extensive survey our 347 camera traps had found 19 Scottish wildcats – with the likelihood that more are out there. As we now focus our attention on the trapping phase of this five-year project, our activity will mean a greater chance that a kitten born next spring will have wildcat parents." 
Abandoning cats and failing to neuter domestic cats at a young age can have dire consequences for our native wildcat. 
Community and volunteer involvement is a huge part of Scottish Wildcat Action's drive to save this enigmatic species and key personnel have worked with local people and vets to deliver TNVR and other areas of work on the ground. A total of 139 volunteers were involved in the initial survey work last winter alone. 
Professor Anna Meredith, of the Royal (Dick) School of Veterinary Studies at the University of Edinburgh, said: "Recent studies of TNVR programmes show that when targeted and done well it is an effective method of managing the feral cat population and this can only be good for wildcats. Research suggests this may prevent new feral cats from migrating into the area and allows wildcat populations time to recover. In a rural setting this will present many challenges. 
"The people of Scotland should know that we are committed to saving Scottish wildcats. We have come together as a broad partnership of key organisations and academics with a shared goal. We have consulted widely to achieve a consensus on the best way forward for their conservation."