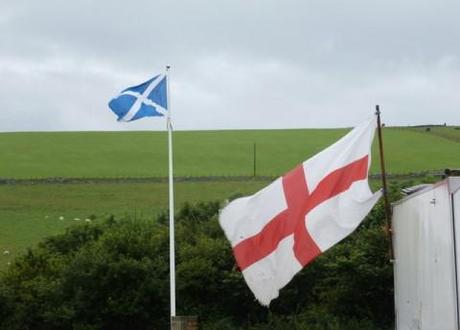 The Scottish and English flags. Photocredit Chris Downer http://www.geograph.org.uk/photo/2555015
Alex Salmond, the Scottish First Minister, has said that British Prime Minister David Cameron's intervention over the Scottish independence referendum will help the Scottish Nationalist Party cause. Salmond announced yesterday that the referendum will take place in autumn 2014.
David Cameron had said the the Westminster Parliament is willing to give Salmond the referendum, as long as it's a yes or no vote on whether Scotland stays within the UK, as it has done for three hundred years, and as long as it's sooner rather than later.
Scottish Secretary Michael Moore has warned Salmond that the Sottish government doesn't even have the legal power to call a vote – that lies with Westminster, as enshrined in the Scotland Act 1998. This is a hugely important issue for the Scots – and the issue has now become a cannily played game of chess. Commentators are lining up the pieces carefully: it's a long game, though most seem to be pointing towards the view that whilst Salmond seems to have outmanouevred Cameron on this point, he's got a lot coming to him.
"I've never thought of myself as revolutionary. But my grandad taught me if you are going to say radical things, say them in a suit," said Alex Salmond, quoted in The Times.
Salmond is a canny operator. Salmond's running rings around the UK government, said Hamish Macdonnell in The Spectator's Coffeehouse blog. His bold statement has made everyone play "catch-up yet again." He's been politically manoeuvring all year – just look at his attacks on the Supreme Court, which he's been busily denigrating in order to lay down the basis for utterly rejecting it when it comes to it declaring the referendum illegal. "Mr Salmond has correctly forecast his opponent's moves before they have even decided what they are going to do." The UK's being "outplayed" – but can still win. It just needs to come up with something the Scottish Nationalists "haven't thought of."
But he's got a Nemesis. Alex Salmond's being as patient as Robert the Bruce watching the spider, commented Alice Thomson in The Times. He's been playing the game for years, and has even helped Scotland weather the economic storm. He's managed to gain a majority in the Scottish Parliament, even despite its "complicated" voting system. He's "the best political operator in Britain." That is, apart from George Osborne. The two men are "worthy opponents." Osborne wants a 2013 referendum, soon after the 500th anniversary of the Battle of Flodden; Salmond's preferred date is soon after the 700th anniversary of the Battle of Bannockburn.
The fiscal question. "Short of having a blue-faced Mel Gibson charge up Sauchiehall Street crying 'Freedom' … Mr Salmond and the SNP could not pick a more stirring backdrop to a referendum," said The Economist's Bagehot. For Osborne to win, Thomson continued, he must prove that it's not economically efficient for the Scots to be independent. If Scotland started independence with its real share of national debt, it would be "£110 billion in the red." And what about the Barnett Formula, which gives Scotland a £10 billion subsidy every year? "Mr Osborne holds all the economic cards, while Mr Salmond holds the hearts. But spades trump hearts every time."
Stop all this wrangling. The polls, said The Financial Times editorial, still show that only a minority of Scots want independence. Salmond wants to delay in order to "prepare the ground" and to give voters some options, such as "enhanced fiscal autonomoy within the union." Cameron does look to have played into Salmond's hands though, since it looks like England's "meddling" (as evidenced by Humza Yousaf, a Scottish MP, on The Huffington Post who called Cameron's intervention "panicked".) But the UK government should wait for the referendum, and then "make the case for the union on its merits. Honest arguments will save the UK."
The pressure's mounting. Cameron's move is "arguably rather canny", said Bagehot in The Economist. He doesn't want to break the union. He's "committed" to it, seeing it as "a source of strength for both Scotland and Britain." The vote Salmond is proposing is "fiddly" – stay, leave, or get more powers. It's definitely a poker move – Cameron's seen Salmond's "consultative vote," and raised him "a binding referendum." What the government is worried about is threefold – whether the referendum will be legal; whether there will be a clear question; and who will fund and oversee it. The legal question is a big one -  if Scotland passes legislation for a referendum, it will definitely "face legal challenges." This will lead to chaos. Westminster holds the legal cards; Scotland says it has a democratic mandate. But in reality, both legal and political pressures are mounting on Salmond.