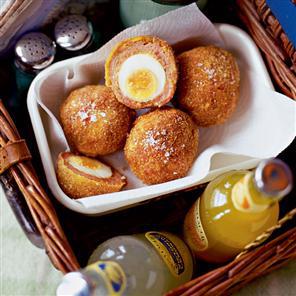 With Paul bouncing around the office in anticipation of the weekend's festivities we thought it was time to bring you a Monday recipe that you could take out of the house and on your travels.
We're not really sure how scotch eggs came into the equation as none of us are sure that we've ever seen anyone eating one at a festival, but maybe it's a trend we can start right now! Get your recipe on and send us pictures of you eating scotch eggs on your travels and at festivals…best one wins a mystery prize!
You Need:
4 large free-range eggs
275g/10oz sausage meat
1 tsp fresh thyme leaves
1 tbsp chopped fresh parsley
1 spring onion, very finely chopped
salt and freshly ground black pepper
125g/4oz plain flour, seasoned with salt and freshly ground black pepper
1 free-range egg, beaten
125g/4oz breadcrumbs
vegetable oil, for deep frying
[Insert egg pun]
1. Place the eggs, still in their shells, in a pan of cold salted water.
2. Place over a high heat and bring to the boil, then reduce the heat to simmer for   exactly nine minutes.
3. Drain and cool the eggs under cold running water, then peel.
4. Mix the sausage meat with the thyme, parsley and spring onion in a bowl and season well with salt and freshly ground black pepper (Simon recommends being generous with the freshly ground black pepper).
5. Divide the sausage meat mixture into four and flatten each out on a clean surface into ovals about 12.5cm/5in long and 7.5cm/3in at its widest point.
6. Place the seasoned flour onto a plate, then dredge each boiled egg in the flour.
7. Place each onto a sausage meat oval, then wrap the sausage meat around each egg. Make sure the coating is smooth and completely covers each egg.
8. Dip each sausage meat-coated egg in the beaten egg, rolling to coat completely, then dip and roll into the breadcrumbs to completely cover.