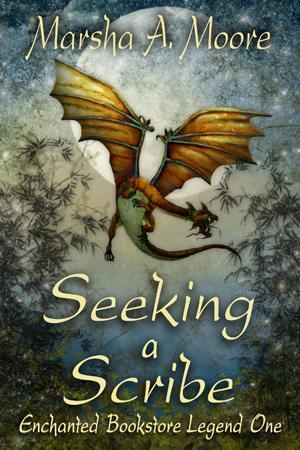 When I came across the words 'Enchanted Bookstore', I couldn't help but want to explore the series. I would love to visit such a bookstore!
Book 1 of the Enchanted Bookstore Series: Seeking a Scribe is 99 cents on Amazon Kindle.
What's it about?


Lyra McCauley is a writer and loves fantasy novels, but until she opens a selection from bookstore owner Cullen Drake, she has no idea he's a wizard character who lives a double life inside that volume...or the story's magic will compel her from the edge of depression to adventure, danger, and love.




His gift to Lyra, the Book of Dragonspeir, was actually her copy, misplaced years ago. Lost in her pain following divorce and death, she fails to recognize him as her childhood playmate from the fantasyland. Friendship builds anew. Attraction sparks. But Lyra doubts whether a wizard is capable of love. She's torn--should she protect her fragile heart or risk new love?

Opening the book's cover, she confronts a quest: save Dragonspeir from destruction by the Black Dragon before he utilizes power of August's red moon to expand his strength and overthrow the opposing Imperial Dragon. Lyra accepts the challenge, fearing Cullen will perish if evil wins. Along with magical animal guides, Cullen helps her through many perils, but ultimately Lyra must use her own power...and time is running out. 

The link for the series: 

https://www.marshaamoore.com/enchanted-bookstore-legends.php

When I looked at Marsha A. Moore's website, I found a pleasant surprise: Tea Leaf Tales.

Here is the link: 

https://www.marshaamoore.com/no-mane.php

And don't miss this! Being a jewelry lover, I can't resist telling you about the first book in the Coon Hollow Coven Tales: Witch's Moonstone Locket.

Click for an excerpt: https://www.marshaamoore.com/excerpt--witchs-moonstone-locket.php

Enjoy!