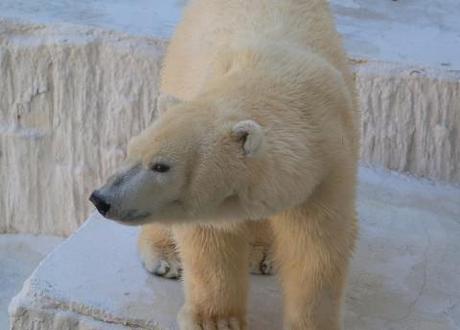 Polar bear
An investigation has been launched after a British schoolboy was killed by a polar bear while on an expedition to Norway last week. Horatio Chapple, 17, was mauled to death after the bear entered his tent on Spitsbergen island in the Svalbard archipelago. Four other expedition members were hospitalised, one of whom, expedition leader Mike Reid, shot the animal dead. The organisers of the trip, the British Schools Exploring Society (BSES), told the BBC that it was "gathering witness statements and reviewing procedures" to find out whether the incident had been preventable — the bear, according to some reports, had a very thin fat lining, indicating that it may have been very hungry.
The polar bear has become a symbol of the effects of global warming, with several studies showing that climate change is decimating their hunting grounds: Basically, as the bears get thinner, so does the ice they stand on. Arctic biologist Charles Monnett co-authored an influential report in 2006 that included observations of polar bears drowning; the phenomenon was mentioned in Al Gore's environmental documentary An Inconvenient Truth. But Monnett has hit the headlines again after being suspended from his government post, and is under investigation in the US for "integrity issues".
So, are polar bears quite the poster animals for global warming that we thought?
Trip wire. Reports have suggested that the BSES camp's tripwire system, designed to scare off polar bears by releasing flares, may have been faulty. According to The Guardian, John Inge Karlsen, head of security at the University of Svalbard, suggested that the group should have been on constant watch for bears and that they may not have set up the tripwire correctly.
Tourist trap. Writing in The Telegraph, Richard Alleyne suggested that the large number of visitors to Svalbard may lead to further attacks. "All the paraphernalia of modern life are now here – a swimming pool, a bank, post office, an airport, hospital, and two schools," he wrote." But as the death of Horatio Chapple shows, no amount of know how can tame a polar bear." Svalbard Superintendent Erik Nygaard told The Telegraph that polar bears " get closer to people and get aggressive" during the summer months when food is scarce – but that this is the most popular season for tourists.
Scientist suspended. Charles Monnett's famous 2006 report, in conjunction with Jeffrey Gleason,  was written after the pair observed four dead polar bears floating in the Arctic. The two scientists suggested that the bears had become exhausted after swimming long distances, and that further melting of the ice in their habitat would make more deaths inevitable. Monnett was suspended in July this year and an investigation was launched. The Guardian reported that the investigation had "moved on from" his famous polar bear report: Suzanne Goldenberg wrote that government investigators were looking into Monnett's current research project, which explores how polar bears are coping with the changing ice conditions. However, watchdog group Public Employees for Environmental Responsibility, which is defending Monnett, has said the investigation does centre on the 2006 polar bear observations, according to The Huffington Post.
Activists afraid. The New Scientist reported that some environmentalists suspect that Monnett's employer, the Bureau of Ocean Energy Management, Regulation and Enforcement (BOEMRE), is keen to get rid of him in order to push through oil drilling permits. BOEMRE has denied any links to oil exploration. Writing in The New York Times, Emily Yehle said that environmental advocacy groups are concerned that "critics of global warming will use Monnett's suspension as a hit against irrefutable science".
No more global warming. The  concerned environmental advocacy groups appear to be right: writing about Monnett's suspension in The New York Post, Matt Patterson argued: "Every day it seems new evidence emerges that the 'evidence' for global warming has been exaggerated, manufactured or just plain wrong."