Party poopers.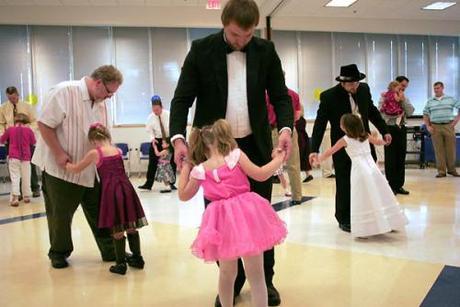 From Fox News: The annual father-daughter dance at a South Carolina public elementary school was canceled this year after a few parents complained it wasn't inclusive.
Brockman Elementary School in Columbia chose to scrap the May 13 dance in response to complaints about its inclusiveness from fewer than 10 parents, who apparently ignored a flyer for the dance that stated that all were invited, WIS-TV reports.
"There were a few parents that did not think the father-daughter dance was inclusive, when actually at all times it was never an event that was exclusive to only fathers and daughters," Karen York, a spokeswoman the Richland One school district which includes Brockman. "Mothers and anyone else who wanted to show up at the dance were certainly welcome to attend."
The dance was a fundraiser for Brockman's Parent Teacher Organization. It had been held for five years, raising over $2,000, the station reported. This year's dance already raised $1,000. The school chose to refund the money after canceling the dance, WIS reported.
"There are father-daughter dances that are held at other schools, have been held at Richland One, and other districts here in Columbia, as well as across the country," York told the station. "In this particular instance at Brockman, there were some parents, fewer than 10, who raised concerns about (the) father-daughter dance."
Brockman has an enrollment of 320 students in grades pre-kindergarten to five and a faculty of 25 teachers, according to the news outlet ProPublica.
Parents upset over the cancellation said they still want to hold a dance on May 13. They're working on holding it themselves, WIS reported.
Brockman also hasn't ruled out a May 13 dance. But instead of calling it the father-daughter dance, the school may call it the Brockman Ball, the station reported.
DCG