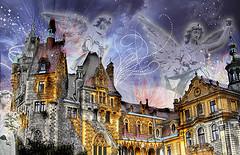 photo : Sarah G.
The Schlosserstrasse or 'road of castles', links many castles through the Styrian countryside (Schloss and Burg denote either a castle or manor house). Several of the castles are privately owned, but all give a warm welcome to visitors.
Northern Schloss
There are 4 castles of note to the northern-most part of the Schlosserstrasse :
Burg Bernstein
Burg Lockenhaus
Schloss Hartberg
and Schloss Schielleiten.
But by far the most impressive – especially if traveling with children – is Burg Schlaining.
Burg Schlaining is a 'fairy-tale' castle, with turrets and towers that spark the imagination and encourage fantasy thinking in even the coolest of kids.
Central Schloss
Probably the most impressive castles on the Schlosserstrasse lie in the central mountainous region of Steiermark. Built on volcanic rock high in the massifs, these include:
Burg Gussing
the mighty Riegersburg with its Museum of Witchcraft
and Schloss Karnberg.
Southern Schloss
Situated in the Austro-Turkish battle grounds by the river Mur, Bad Radkersburg does not simply 'have' a castle, it is a castle.   Bad Radkersburg is the most outstanding of the southern schloss. It has immense size and the beauty of the surrounding scenic town with medieval centre, to further enhance its attraction.
Other castles along the southern length of the Schlosserstrasse include:
the 11th  century Schloss Kapfenstein
Schloss Tabor
Schloss Segan
and the dual named, Burg Deutschlandsburg – aka Burg Lonsprecht.
If you enjoy conquering castles, Austria is certainly the place to go. If you need somewhere to stay to enjoy these ancient monuments of one of Europe's most influential countries, please don't hesitate to contact me about Chalet Lowonahill in the heart of Austria where the Schlosserstrasse passes through.