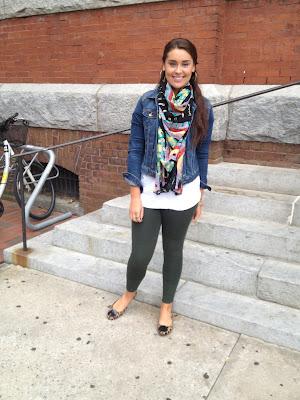 Good Afternoon Fashionista's! Is it just me or is there a chill present in the air today? Keep those beautiful necks warm by wrapping a one of a kind scarf around it. I found this Fashionista in my 8am Introduction to Fashion Design class in the SAV and just had to snap a pic of her look. This fashion lover accented her chic look with a one of kind scarf she found in Hong Kong, forest green leggings, a denim jacket and leopard print flats! 
   I just love the way she has mixed her printed scarf with different textures. The denim really plays off of the beautiful colors wrapped around her neck, while the leopard print flats complete the look. Mixing different prints together can create a unique look that will definitely have heads turning. 
   Dying to know where to find this 
look? For a wide selection of funky printed scarfs check out Hermes.You can also find denim jackets in a variety of washes from American Eagle. And don't forget to complete your look with a pair of animal print flats from Tory Burch. Leggings come in a great selection of colors and prints and can be mixed and matched to complete any look. They are versatile and can be worn throughout all seasons. You are guaranteed to find a pair from SHOPBOP that will suit your style. 
  Don't forget that scarves can also be used as funky retro headbands to compliment your tresses on hair emergency days or to give your outfit a bohemian vibe when used as a belt. They are multi-fuctional AND are fashion worthy. 
  Want to have your look featured on my blog? Send me a photo of your trendy look to 

[email protected]
Style On,
Alicia G.