Dear men, I know you don't care much about taking care of your skin (well, most of you don't) but it is high time you do. Believe me there's nothing 'girl-like' or 'unmanly' about taking care of one of the most vital organs of your body. You are worried about your heart, lungs, kidneys right then why not your skin which is prone to maximum damage? You will spend lakhs on getting yourself fancy clothes, shoes, gadgets, cars etc but when it comes to washing your face, you use a soap bar! Cmon, stop being a 'bar-barian' and #SayNo ToBars! Soap bars that is.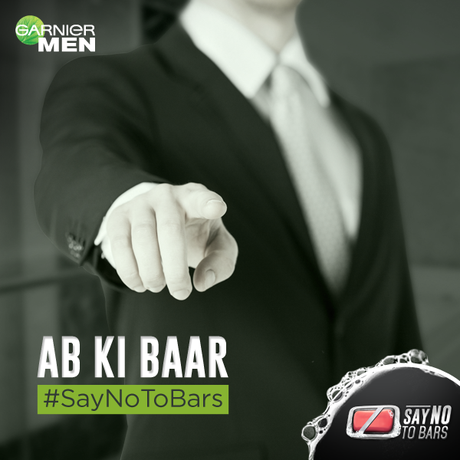 You might ask then what is a good alternative? Well, use a face wash that is much more gentle than that soap bar. If you keep using that bar for years, your skin will become dry and you will get wrinkles much earlier and that ain't too macho right? You can use the new Garnier Men Oil Clear Facewash if you have oily skin and the Garnier Men Acnofight Facewash if you have acne. And if you have normal to dry skin, you can try Garnier Men Powerlight Facewash. And if you don't know what is your skin type, then just google or better, ask the women in your life for guidance.
A good face wash suitable for your skin type is a must have. There are two other must-haves which you must use religiously everyday. Here goes..
Moisturise - Moisturising the skin is also equally important, for all skin types (yes, even oily skin!). You can use the Garnier Men Powerlight Oil Control & Fairness Moisturiser to control oil secretion and keep your face looking fresh all day.
Apply sunscreen - Men who don't use sunscreen increase their risk of getting sun damage, which result in irritation and also skin cancer. Stay forever young (or close to it) by applying sunscreen every single day.
Just incorporate these three products in your everyday life and use them religiously. Your skin will thank you for it!