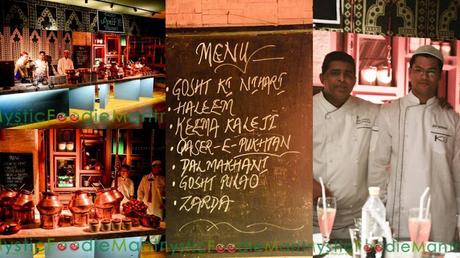 Executive Chef Girish Krishnan and Masterchef Arif Mia
There are some places that you fall in love with and want to go time and again. Food, ambience, Service, comfort and most important for me has been interactions with Chef that keeps drawing me to some places.  K3 at JW Marriott holds special place for me without a doubt, this one of my favorite place in Delhi.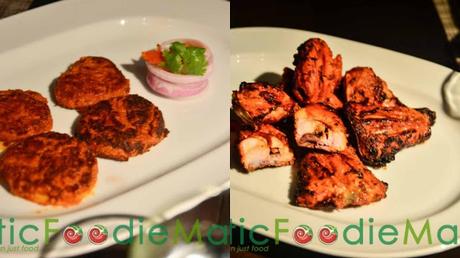 left - galauti kebab and ulte tawe ka paratha right  - tandoori chicken 
Well, you must be wondering, what's in store this time……I always have high expectations from them to come up with interesting, special, authentic and yet innovative. This time it was very close to my heart i.e. Awadhi food - given the fact that Chef Girish Krishnan's love for Indian especially north Indian food. This time they have Arif Mia, young and energetic, is from Lucknow and is an amazing cook. You definitely have to try the food and you will then realize the divine taste that gets difficult to simply put in words!.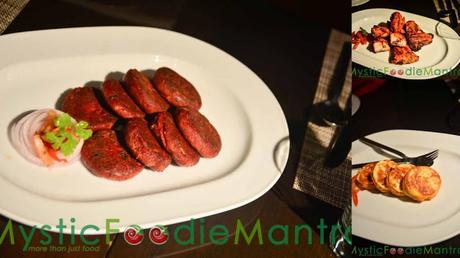 Left beetroot galauti kebab, top right -  tandoori chicken right bottom  - dudhia kebab
Nawabs of Awadh were known for their cuisine and their love for meat. The famous biryani which traveled all the way from Persia where it was known as pilaf, went through several customization before it became the famous biryani of Lucknow. Lucknow is not only known for biryani, it's a city which has given us kormas, currys, galautis and best part is eating together on dastarkhan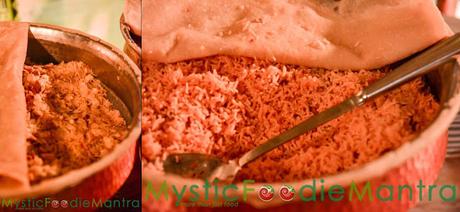 left - zarda pulao right -  mutton pulao 
This was an exclusive preview of Arif ki rasoi that brings you food, straight from the lanes of Lucknow.  What is interesting is that you also get to taste Hyderabadi and Mughlai food! The haleem that I ate was surely one of the best Haleem I have ever eaten in Delhi. Same goes for tandoori chicken; spices were not overpowering and you actually get to enjoy perfectly grilled chicken. The food was simply outstanding and brought back pleasant memories. The mutton nehari was as authentic as you get in Lucknow. Zarda pulao was mildly sweet and had great flavor of nuts and dry fruits and so was the meat pulao, a speciality of Lucknow. Haleem and bakarkhani(sweet bread) were outstanding. A great meal followed by great conversation with chef GK on various topics. Arif ki rasoi will be available from 28th at K3, JW Marriott. Masterchef Arif's food will take you straight to Lucknow - Real and Delicious - and amazingly authentic! Don't miss as you will not get true flavours of Lucknow in Delhi.
The Arif Miyan Ki Rasoi is available as part of the daily Dinner buffet at K3, priced at INR 2350++ and can be enjoyed between 7:30 pm to 11:00 pm starting from 28th August till 6th September, 2015. For reservations call: +91 11 4521 2120