While Mr. Mike and I are ready for spring fresh salads and smoky grilled chicken, we're not quite ready to let go of hearty meals like this sweetly spiced chicken stew.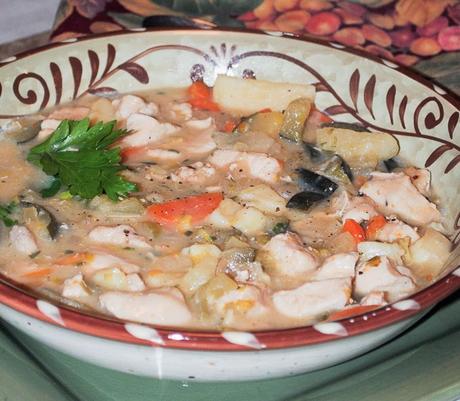 When Mike asked for chicken pot pie, I couldn't turn him down. After all, he eats more than his share of test recipes from this cook's kitchen.
Wanting to skip the calories in a pot pie, I opted for a creamy chicken stew instead. In my opinion, chicken stew is simply chicken pot pie without the fattening pie crust.
But, the question is whether my loving hubby would agree.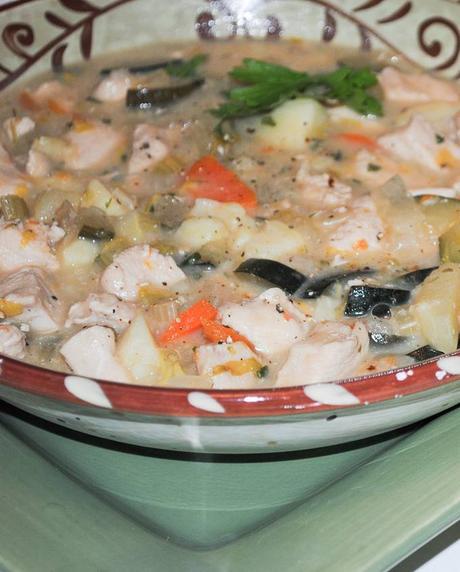 Much like a chicken pot pie, this chicken stew isn't on the table in minutes. It takes a bit of stove time to meld the flavors of chicken, zucchini, carrots and sweet potatoes together. Though it's worth waiting for while that comforting aroma fills the kitchen.
I wasn't sure if Mike would like the tarragon I tossed into the pot, but when his chicken stew was placed in a bowl in front of him, he didn't complain. In fact, he didn't complain about the lack of pie crust either.
Okay, we're ready for spring now. I've satisfied our cravings for a last winter-like meal, and it seems Seattle is agreeing with me. We've had a week of cold, but incredibly beautiful blue skies.
Enjoy!
~Kristi

Chicken and Sweet Potato Stew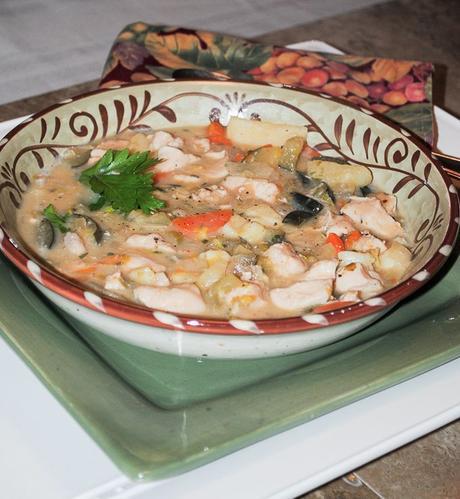 Save
Print
Prep time 15 mins Cook time 1 hour 15 mins Total time 1 hour 30 mins   This creamy chicken stew with sweet potatoes and zucchini makes a hearty, low calorie meal. Author:
Kristi RImkus
Recipe type:
Poultry, Chicken
Serves:
6
Ingredients
1 tablespoon olive oil
1 cup onion, chopped
1 cup carrots, sliced
1 cup celery, sliced
1 ½ pounds boneless skinless chicken breast, cubed
1 cup zucchini, sliced
2 cups sweet potatoes, sliced
32 ounces low sodium chicken broth
2 cups water
2 tablespoons tarragon, minced
½ teaspoon salt
¼ teaspoon pepper
2 tablespoons cornstarch
2 tablespoons water
4 tablespoons fat free half and half
Instructions
Heat oil in a large soup pot or Dutch oven over medium high heat. Add onion, carrots and celery. Cook for 5 - 6 minutes to soften.
Add chicken and cook for another 5 minutes to partially cook chicken.
Add zucchini and sweet potatoes. Cook another 3 - 5 minutes to start the vegetables cooking before you add broth. If vegetables start to stick to the pan, add a few tablespoons of broth to keep from burning.
Add broth, water, salt, pepper and tarragon. Bring to a boil, then reduce heat to medium and cook for 40 - 50 minutes until vegetables are tender.
Combine cornstarch, 2 tablespoons of water and mix well.
Add to the pot stirring as you add. Continue to stir until sauce thickens.
Remove from heat and add half and half.
Notes Food energy: 238kcal
Weight Watchers PointsPlus 5
Saturated fatty acids: 1.08g
Monounsaturated fatty acids: 2.56g
Polyunsaturated fatty acids: 0.76g
Total fat: 4.41g
Calories from fat: 39
Cholesterol: 72mg
Carbohydrate, by difference: 18.46g
Total dietary fiber: 2.89g
Protein: 27.93g Nutrition Information Serving size: 
6
Wordpress Recipe Plugin by

EasyRecipe
3.2.2925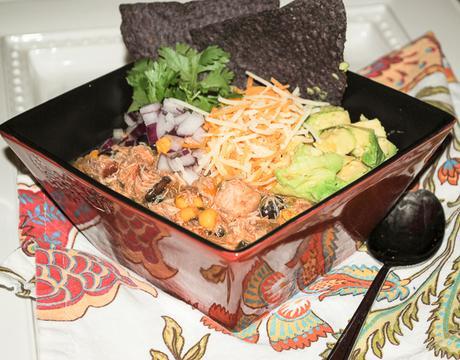 PS – If you liked this chicken stew and want something with kick, this slow cooker Mexican inspired chicken stew might be right up your alley!
email