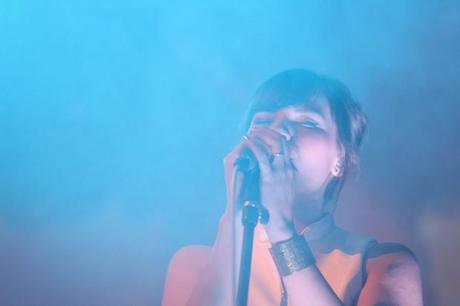 Photos by Eric Weiner
To say that Saturday night at Music Hall of Williamsburg was a good time would be a massive understatement. Complete with sets from Savoir Adore, The Suzan and Ski Lodge, the show started off on a high note and definitely stayed there during each set. Given the band that was selected to go on first, that's not a surprise. Ski Lodge has been a favorite of ours for a while, and for good reason!
The band that followed, The Suzan, hail all the way from Japan, and I couldn't be more grateful that they decided to move to New York. With endless, frenetic energy, they perfectly delivered their blend of garage rock, pop and everything in between. Stellar musical combinations and genre blends aside, there was something in their confidence and aggressive stage presence that really captivated me. The way they carried themselves, I would have expected a set in front of thousands instead of hundreds. Luckily, though, they also acted as the perfect primer for what was to come.
Savoir Adore took the stage wearing matching white outfits, a wardrobe choice that would later serve as the perfect visual for their magnetic chemistry as performers. Rife with incredible harmonies, their signature guitar and synth rhythms and well-balanced percussion to keep the audience's feet excited, they roared through a set featuring old favorites and songs from their newest album, Dreamers. As each song led into the next, I found myself completely enamored with the music — taking in the gorgeous wall of sound, it was difficult to focus on anything other than the absolutely spectacular time I was having.
Savoir Adore























The Suzan














Ski Lodge