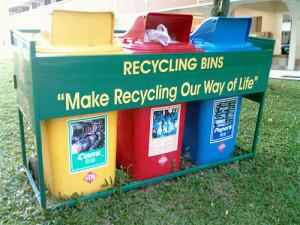 Recycling accomplishes much more than just keeping valuable resources from ending up in our landfills. It also helps to reduce our overall environmental impact. The U.S. Environmental Protection Agency (EPA) states that most of what is in our waste stream is completely recyclable.
Unfortunately, an average American tosses out nearly 1,200 pounds of garbage every year. The EPA also reports that, aside from the benefit of saving space in landfills, recycling plastic containers, aluminum, and glass will save large amounts of energy in comparison to the energy used to create new products.
Plastic
Most cities and towns throughout the United States have a recycling program in place, and the plastic most commonly recycled is PET, polyethylene terephthalate. Used primarily in drinking containers, PET can be recycled into things like jackets, carpeting, and garage door insulation. It takes 10 times more energy to create new plastics from raw material as it does to recycle it. The chemical structure is often altered during recycling, which means that many plastics can end up being an entirely different type of product after recycling.
Aluminum
The recycling of aluminum is highly efficient, as manufacturers will melt and reuse aluminum over and over again, with little to no quality loss. The Aluminum Association estimates that manufacturing an aluminum container entirely from recycled materials uses only five percent of the energy that is used to create a new can from bauxite ore.  The EPA estimates that recycling 2,000 pounds of aluminum will save the equivalent to 33 barrels of crude oil. This can significantly reduce the carbon footprint left by the aluminum manufacturing process.
Glass
Most recycled glass ends up as new glass containers, jars, and bottles. Recycling glass involves crushing wasted glass into pellets that are known as cullet. New containers are manufactured by using nearly 70 percent cullet, mixed with raw material to achieve a specified quality and color. The GPI (Glass Packaging Institute) states that every 10 percent worth of cullet added to the mix reduces required energy to make fresh containers by three percent or more. Utilizing less energy allows manufacturing equipment to last much longer, such as a furnace.
Other Benefits
There are many other important considerations besides the obvious energy savings, as the consumption of our natural resources, as well as the inherent environmental impact, cannot be ignored. Recycling aluminum partially eliminates the need to mine bauxite ore to match the demand, lessening the environmental harm that is caused by mining.
Plastic can't be repeatedly recycled as well as aluminum, but discovering uses for recycled plastics can conserve petroleum, a resource that is nonrenewable. The production of glass uses quartz sand and other raw materials, but using recycled glass for manufacturing lessens carbon emissions.
Join in the discussion in the comments below and/or share the piece.
Photo credit: 



 Some rights reserved by imeleven