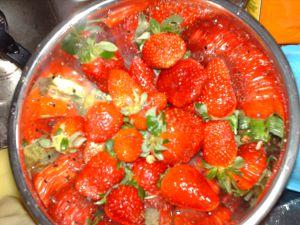 Few pleasures compare to sinking your teeth into a slice of fresh, succulent fruit.   once summer has shown its' last glimmer , the fresh sweet fruit will be gone…  Whether you are one of the many berry lovers who inundate strawberry fields in the spring or you delight in crowding your kitchen with baskets of raspberries, peaches and blueberries from the farmer's market, you know that aside from gobbling down these sweet treats, preserving them quickly becomes a priority.
Historically, jams and jellies have become an ideal way to stretch out the fruit season into the rest of the year. The process is a rather large undertaking: boiling jars, cooking the fruit, adding the pectin—and sugar; lots and lots of sugar. But traditional jam-making is not the only option anymore.
Freezers now add another possibility for fruit preservation. Freezer jam, for example, is becoming increasingly popular. Like traditional jam, it can be prepared using berries, apples, oranges, pears, peaches, and an unlimited combination of tasty treats. But best of all, freezer jam benefits our health, the environment and our taste buds.
One way in which freezer jam is unique is that the fruit is not cooked. The fruit retains its bright color, its many nutrients and, most importantly, its fresh flavor. The ratio of fruit to sugar in traditional jam is often 1:1. When making freezer jam, only about a third of the sugar is necessary.
Unlike jars used for traditional preserves, freezer jam can be stored in clean plastic containers or jars of any kind. They don't even need to be boiled first, cutting out one time-consuming step right there. And if you have kids that need to be put to work, don't forget that jam-making can be a family affair. Most freezer jam recipes call for finely chopping or crushing the fruit. Who loves squishing slimy peeled peaches or juicy berries more than kids? (Supervision of pre-squishing-hand-washing is highly recommended.)
Making freezer jam isn't quite as much fuss as you might think. From fruit preparation to the freezer, it can take less than an hour. However, if you are plunging into jam-making mode, one key piece of advice: be sure to have some fresh bread or a luscious croissant close by, for once the jars are filled, your melt-in-your-mouth creation is ready to savor!
*Saturday July 24th and July 25th Claridge Hotel-Atlantic City Food and Wine Show at the Claridge Hotel-Hope to see you at the at the show..it gets bigger and better every year..I will be onstae on Saturday at 1:45 and doing book signings and sampling all weekend in the Grand Market..see you there..for more info email [email protected]
Get more recipes and  culinary  travel stories in the award winning book series The Basic Art of Italian Cooking