Sauerkraut Cabbage Rolls, made in a slow cooker, are styled after the cabbage rolls made at the Waynesville Ohio Sauerkraut Festival.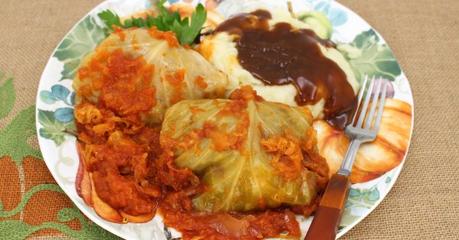 Sauerkraut Cabbage Rolls (Slow Cooker)
By Sue Lau | Palatable Pastime
Sauerkraut cabbage rolls are my recipe of the day. They are made like the type served at the Waynesville Sauerkraut festival from the St. Augustine's church.
They are filled with a beef and rice mixture, then placed in a slow cooker or crock pot with a tomato and sauerkraut mix and simmered all day until tender and perfect. Served with mashed potatoes or noodles, they are fantastic.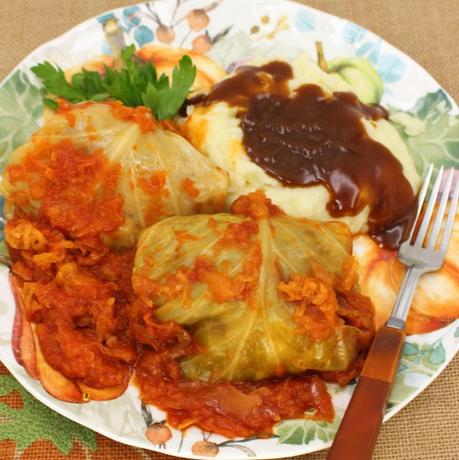 This is a pic of the Waynesville Sauerkraut festival where they serve this type cabbage roll. As you can see, in most years it is really crowded, and lines to get cabbage rolls at the church booth can be quite long.
While it's great to get down the and enjoy the fun, it's a bit more convenient to make these at home.
Plus you can get more kraut that way.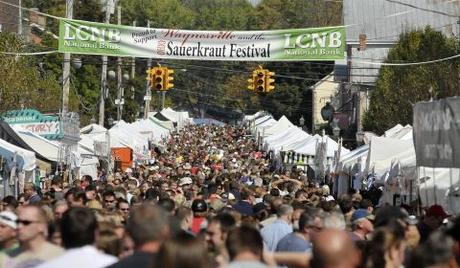 Here the cabbage rolls are placed into the crockpot with layers of tomato puree and sauerkraut between. I put a .few of the extra outer leaves over the last ones to go in (after I top with kraut and sauce). It seems to help trap the heat and steam by the cabbage rolls.
These cook all day long until they are fork tender. Sometimes I find if I run the cooker on high, it will take longer than half the low temp time for some reason. Just test with a fork.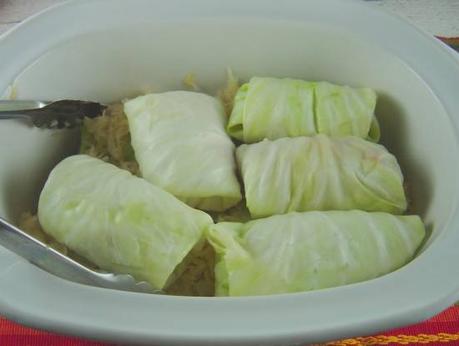 Placing cabbage rolls in the crock pot, getting ready to cook.
Sauerkraut Cabbage Rolls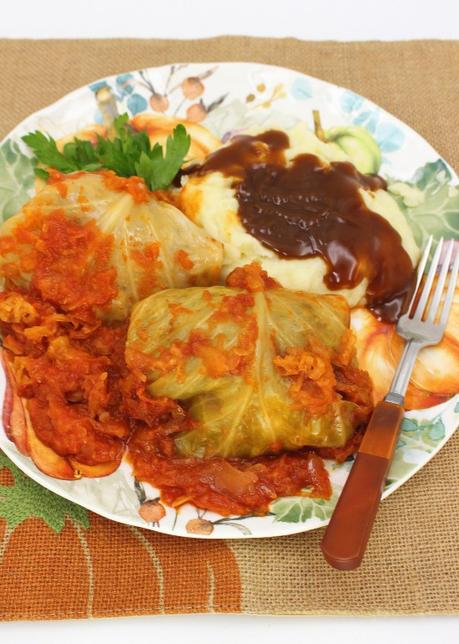 You Might Also Like:
First, homestyle pork roast (slow-cooker) for a perfect Sunday dinner cooks up like a dream. And it can be paired perfectly with mashed and your favorite vegetables.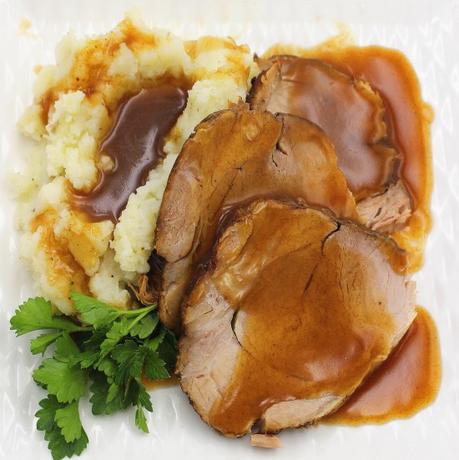 Next, Chicken and Rice soup in the slow cooker is made extra healthy with the addition of rice made from chickpeas and tender veggies.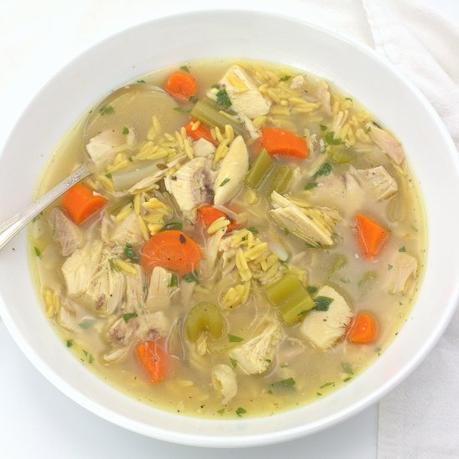 In addition, tender coca-cola brisket braised in the slow cooker or crock pot with tomato sauce. Which is perfect for any Autumn meal, such as Rosh Hashanah.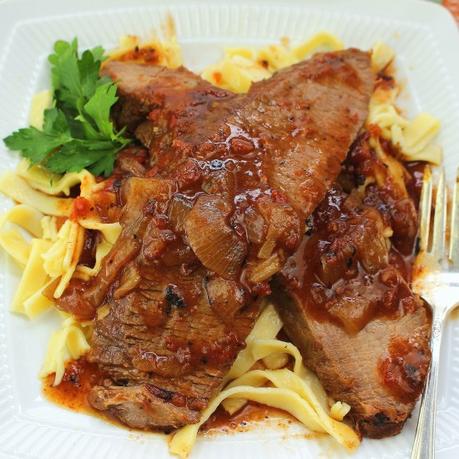 Or you might like Fiesta Chicken Sandwiches which are easily cooked in the slow cooker with a few simple ingredients and piled high on warm slider rolls.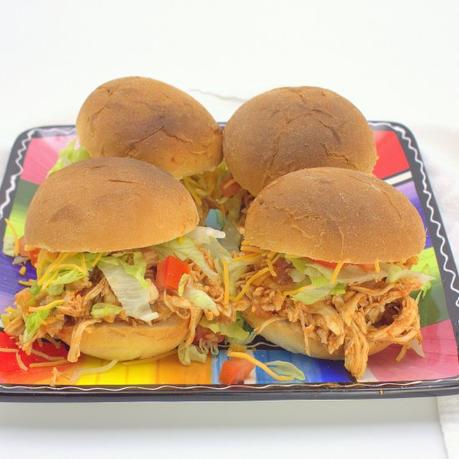 Finally, Appalachian soup beans, is an American staple from the Eastern US mountains. And it's made with simple seasonings, fatback, and sometimes ham in the slow cooker.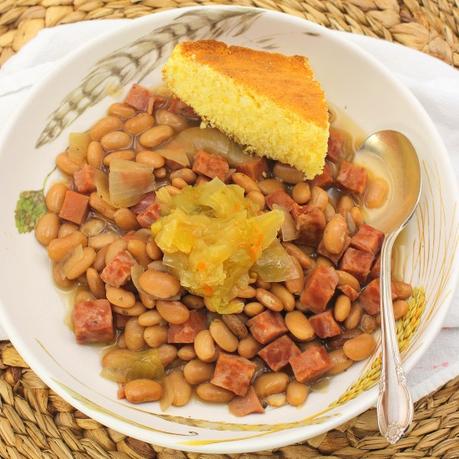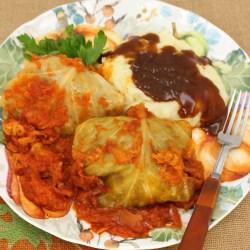 Sauerkraut Cabbage Rolls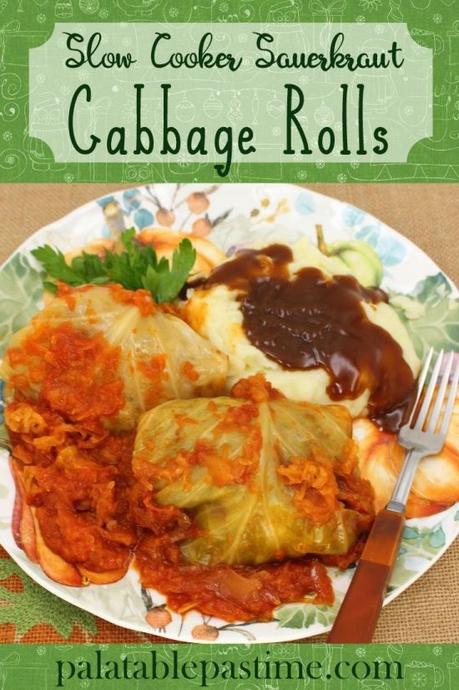 Join my recipe group on Facebook for more recipes from blogger friends around the world!
Post has been updated from 9.19.2013 to reflect new photography.