Indiais a treasure cove of several lip smacking regional delicacies. Different regions have their own ingredients, style of cooking and delicacies. Those on an Indian culinary tour must not miss these rustic tastes or their gastronomic journey would be incomplete. One such food is Sattu Poori which is a jewel from Bihar. Sattu is toasted Bengal gram flour which is healthy, delicious and filling, a staple of Bihar, Jharkhand and Eastern Uttar Pradesh region. With this I served the famous Mughalsarai Platform's Alu Subzi, a heavenly potato curry often served with pooris at the Mughalsarai station platform. Mughalsarai is a major junction in Eastern UP and the platform food is very popular among those frequently making train journeys through this station. This Alu Subzi is so simple and tasty, you will be amazed at the rustic flavor of this dish with such few ingredients. Both of these delicacies made an incredible matching and we had a dinner to remember. However you can savor this magical alu subzi with plain pooris or paranthas too.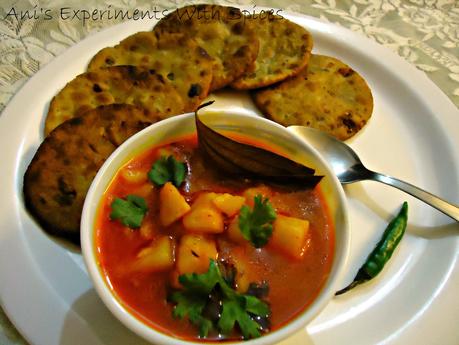 Sattu Poori
First the recipe for Sattu Poori:
Ingredients:
200 gms sattu/toasted Bengal gram flour
250 gms wheat flour/atta
1 big onion finely chopped
½ tsp ginger finely chopped
1 tsp green chilies finely chopped
½ tsp garlic finely chopped
A fistful of chopped coriander leaves
Salt and sugar to taste
White oil as per requirement for frying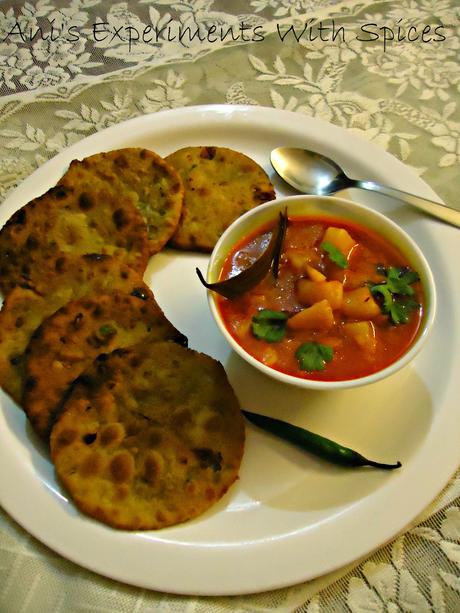 Sattu Poori
Process:
Step 1: The filling/stuffing
In a bowl toss in sattu, onion, ginger, garlic, green chilies, coriander leaves, salt and ½ tsp sugar. Mix them together well with 1 tablespoon water until the stuffing is ready.
Step 2:
Knead atta/ wheat flour and keep aside.
Step 3:
Take a little kneaded flour in your hand and make a depression at the center with your finger. Put the stuffing in it and fold it from all the sides properly so that stuffing doesn't come out.
Step 4:
 
Take a rolling pin and flatten out the pooris. Take care not to apply too much pressure or the stuffing will burst out.
Step 5:
Heat sufficient oil in a kadai/wok and fry the sattu pooris one by one.
Now the recipe for Alu Subzi/Potato Curry: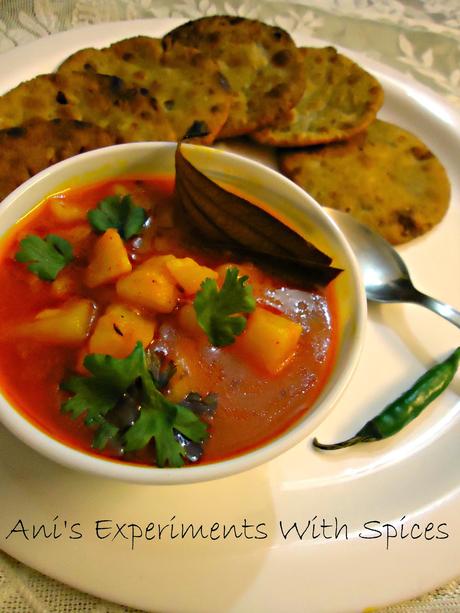 Mughalsarai Station Alu Subzi
Ingredients:
4-5 large potatoes cut in cubes
1 tsp hing /asafetida
½ tsp amchoor powder/dry mango powder
1 tsp jeera/ cumin seeds
2 bay leaves
½ tsp turmeric powder
1 tsp kashmiri red chili powder
4-5 slit green chillies
Chopped coriander leaves
Salt and sugar to taste
2 tsp ghee/clarified butter
Mustard oil as per requirement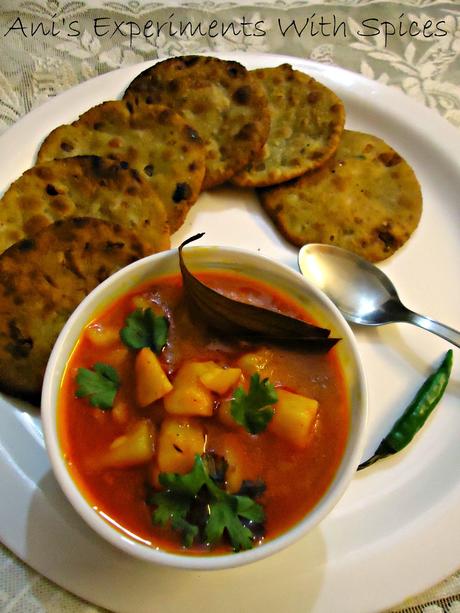 Mughalsarai Station Alu Subzi
Process:
 
Step 1:
Heat oil in a kadai/ wok and splutter bay leaves, cumin seeds, asafoetida. Add the potatoes and fry for 3-4 minutes.
Step 2:
Add the powder masalas, salt, sugar and 1-2 big cups of water. Cover with a lid and let it get cooked on medium heat until the potatoes are done.
Step 3:
Switch off the flame and add the slit green chilies, ghee and chopped coriander leaves. Again cover and give 5-10 minutes standing time.
Step 4:
Serve hot with sattu pooris.