The host of the evening and Golden Globe winner, Sandra Oh dazzled in Forevermark diamonds in three show-stopping looks. Channeling old Hollywood glamour on the red carpet, Oh donned an elegant white gown, statement diamond earrings and a stack of diamond line bracelets.
For her second look, Oh changed into a bold red gown and shoulder skimming diamond drop earrings. Finally, Oh accepted her Golden ­­­Globe for Best Actress in a TV series for her role in Killing Eve wearing a white gown with embellished gold sleeves, striking serpent-inspired diamond earrings and fancy yellow Forevermark Exceptional Diamond rings.
Elizabeth Saltzman, Oh's stylist, shared inspiration behind her look, "Working with strong, powerful, super talented women like Sandra Oh is not only lucky, but exciting– especially in this year where we have so much choice.
Choosing the right designers and the right jewels to compliment Sandra's amazing personality was a joy. Forevermark diamonds were not only perfect but felt perfect for the message: Sandra Oh is a rare, beautiful, smart, talented person."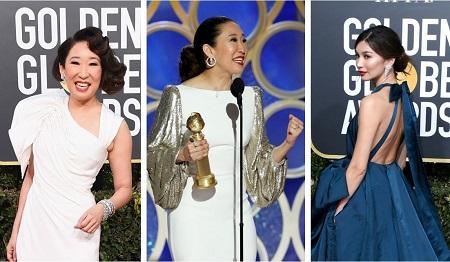 Sandra Oh and Gemma Chan Sparkle in Forevermark Diamonds – 76th Annual Golden Globes
Gemma Chan, actor in Golden Globe nominated Crazy Rich Asians looked radiant on the red carpet dressed in a pair of cascading chandelier diamond earrings and stackable diamond rings to complement her dramatic deep blue gown.
Chan's stylist Rebecca Corbin-Murray said of her diamond look, "Committed to social responsibility, empowerment of women and conservation– we were drawn to the breathtaking pieces from Forevermark for their beauty and unusual asymmetric design but it's important to me/us to work with brands which are trying to have a positive impact on the planet."
Every Forevermark diamond undergoes a journey of rigorous selection. The unique Forevermark inscription is an assurance that every Forevermark diamond meets the exceptional standards of beauty, rarity and is responsibly sourced.
Forevermark goes beyond the standard 4Cs to hand select diamonds that are among the most beautiful in the world. Less than one percent of the world's diamonds are worthy of the Forevermark inscription.
Each Forevermark diamond is responsibly sourced and embodies Forevermark's principles of integrity, support for opportunities for women and dedication to the protection of the natural world. The inscription is an assurance of the physical integrity of a Forevermark diamond throughout its journey.
Invisible to the naked eye, the inscription features a unique identification number and is just 1,5/000th the width of a human hair, made using bespoke technology from The De Beers Group of Companies.
Sandra Oh and Gemma Chan Sparkle in Forevermark Diamonds – 76th Annual Golden Globes
Forevermark is the diamond brand from The De Beers Group of Companies and benefits from over 130 years of diamond expertise. For more information and to find your nearest Authorized Forevermark Jeweler