Hello! It's been a while; I hope you all had a dashing New Year celebration. I suppose this is the first time I had a long hiatus on my blog writing. Well, I am not at my based location and few unexpected things happened, so I was occupied and later was a tad lazy to write anything.
Anyway, now I am back to my 'old' self and hope 2021 brings good tidings & blessings.
Now coming back to today's blog post, a few months back, I got the opportunity to collaborate with an Australian famous brand- Sand & Sky. I received their worldwide best selling duo products and was excited to try them.
Australian Pink Clay Face Mask Set
Porefining face mask

Flash Perfection Exfoliating treatment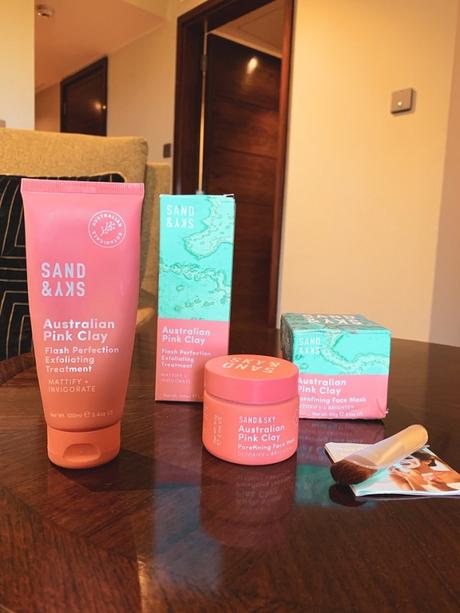 For few months, I have been using it regularly and now am ready to share my experience. Although I have received these products from the brand, however, it does not influence my review in any way and my reviews are 100% honest.
So let's begin! Is it worth the hype? Is it effective on Indian skin? Is it true to what it claims? Keep reading to know.
1) Sand & Sky Australian Pink Clay Porefining Face Mask with applicator Brush
This 4-In-I pink clay mask cleans deeply & purifies the skin in just 10 mins.
Detox + Invigorate + Refine + Brighten
It has all the Australian botanicals goodness and none of the bad chemicals- no sulphates, no phthalates, no silicone, and no parabens. It is cruelty-free and dermatologically approved.
The key ingredients of this clay mask are:
Australian Pink Clay– It detoxifies, purify & tightens pores.
Kelp & Witch Hazel– It helps to refine pores, soothes irritation & speeds up skin repair.
Mongosteen & Pomegranate– It acts as an anti-oxidant.
Kakadu Plum– It is the world's richest source of Vitamin C to tackle pigmentation.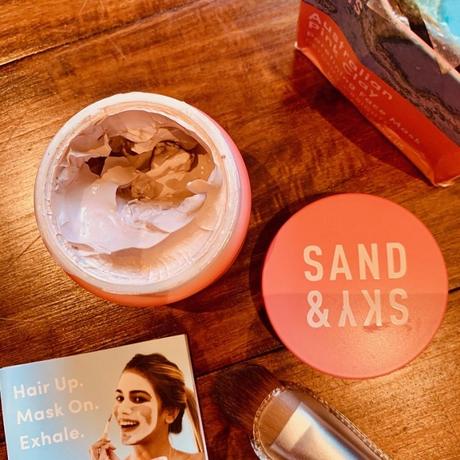 Packaging
I loved this rich cute pink jar that includes an applicator brush. The brush is small & convenient to use. Travel-friendly pack.
Price
MRP Rs 3499/-
How to use it?
Cleanse your face

Apply evenly with the help of a brush applicator

Keep it for 10 mins

Rinse it off
Sand & Sky Claims My Experience
Suitable for all skin types   Yes it worked on my oily skin.
Soothes blemishes   Yes, it does.
Tighten pores   Yes, I could feel
Refines & Brightens   Little bit
Instant detox Yes skin feel rejuvenated
You can check out my review video on YouTube.
Review
As I said earlier, I loved this cute pink packaging and the applicator brush. It makes applying the clay mask easy and convenient by giving coverage properly and limiting the product.
The mask has a pleasant fragrance that uplifts the mood.  When I apply the mask, it gives a slight tingling sensation which fades away after few minutes. The sensation is due to the natural ingredients of the clay mask.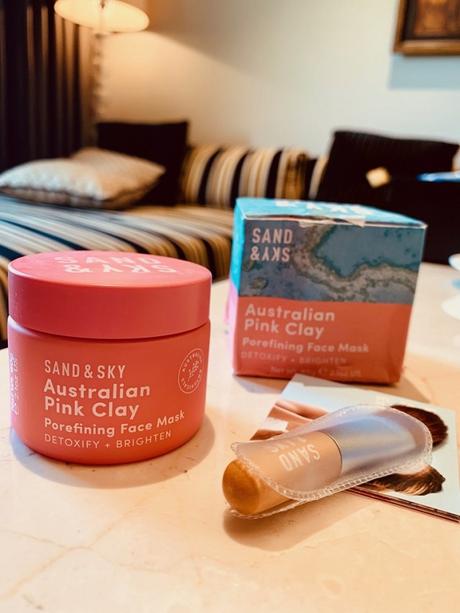 I keep it for good 10-15mins and then rinse off. The skin looked clear & refreshed. The best thing that I liked about this mask is that it leaves a smooth feeling. The face feels soft & smooth.  I have used many brands of face masks, but only this mask gave that smooth feel which I liked the most. It also helped in reducing the blemishes and acne marks.
I use it once in 15 days or when my skin feels tired or when am about to step out for some important work or when am indolent to do a skincare routine. This mask has effective formulas & instantly detoxifies.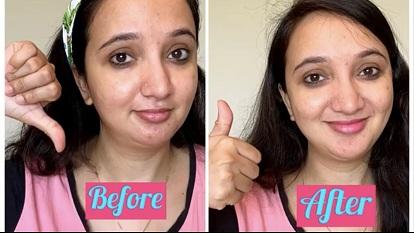 First time use result.
I would highly recommend this pink clay mask as it suited my oily Indian skin and satisfied many of its claims.
The price is expensive, but instead of buying so many products for your skincare routine. You can just skip that and purchase only this product. That way it will not burn your pocket.
Rating




Rating: 4 out of 5.
2) Sand & Sky Australian Pink Clay Flash Perfection Exfoliating Treatment Face scrub
This 3-In-I exfoliating treatment promises to give smooth skin in just 5 mins.
Detoxify + Exfoliate + Invigorate
It has all the Australian botanicals goodness and none of the bad chemicals.
The key ingredients of this scrub are Australian pink clay, botanical antioxidants, and AHAs (alpha hydroxy acid) that act as a treatment to detoxify, exfoliate & invigorate the skin.
Packaging
It comes in a pink tube with a tight flip cap. Travel friendly.
Price
MRP Rs 2799/-
How to use it?
Cleanse your face

Apply this face scrub and massage for 30sec if you wish

Leave it for 5mins

Rinse off with warm water
Sand & Sky Claims My Experience
Suitable for all skin types Yes
Detox the skin No effect
Exfoliates No effect
Invigorates & smooth skin No
Review
This exfoliating treatment face scrub was disappointing and fails to keep up with its claims. I used it regularly two times a week till it got finished and felt no drastic change.
My skin also did not felt smooth or soft. I was expecting it would work well just like the clay mask, unfortunately, it didn't show any effective results.
Hence, I would not recommend this product.
Rating

Rating: 1 out of 5.
Final Thoughts
I would suggest you try the Sand & Sky Pink Clay mask which is effective and worth the buy. It will leave your skin smooth and boost radiance. It worked on my Indian oily skin tone, so am sure it will show good results on yours too. It is suitable for all skin types.
Whereas, Sand & Sky Exfoliating Treatment Face scrub was disappointing and you can skip buying this product.
Hope this review helps you. Let me know your thoughts in the comment section.
PIN THIS POST!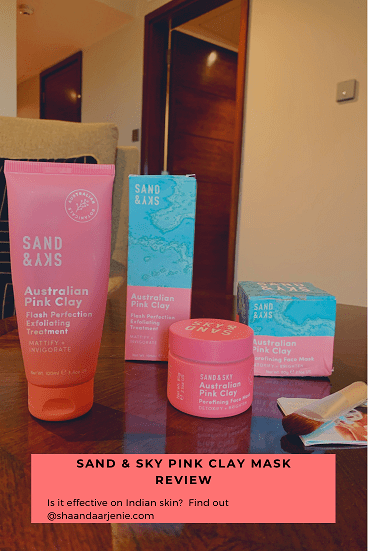 You May Also Like To Read:
ALLMASK facial sheet mask Review: Made in India
Mamaearth Tea Tree Hair Mask & Conditioner Review
*Disclosure: This post contains affiliate links and I may receive a small commission if you purchase through them at no extra cost to you.