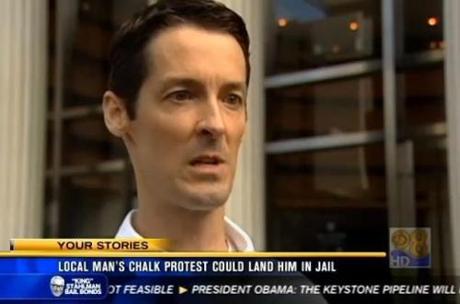 Facing serious time for sidewalk chalkings
NY Daily News: A California man is facing $13,000 in fines 13 years in prison – all for chalking his opinions on a public sidewalk.
While San Diego resident Jeff Olson admits to scrawling slogans like "No Thanks, Big Banks" and "Shame on  Bank of America" outside of three local branches of the bank, he never thought it would be considered vandalism.
"Always on city sidewalks, washable chalk, never crude messages, never vulgar, clearly topical," he told CBS  8.
Olson, 40, told the San  Diego Reader that he is vehemently against the bailout that big banks got following the housing bubble collapse, and used children's sidewalk chalk to convey his message.
But that message seemed sketchy at best to city prosecutors, who have  charged him with 13 counts of vandalism. Each misdemeanor comes with a $1,000 fine and a year in prison.
While Olson cites his First Amendment rights to free speech, the trial's judge barred the argument from being used in the trial, saying that the trial is  only to see whether Olson is guilty of vandalism or not.
The judge cited a case from 1995 where the defendant was acquitted of vandalism because the jury decided that children's chalk left no lasting damage to the sidewalk.
According to CBS 8, the city elected to charge Olson after a high-ranking  bank security manager called repeatedly to voice a complaint.
Because Judge Howard Shore has ruled out the First Amendment defense, some in San Diego are worried that their children could be slapped with misdemeanors for doodling on sidewalks with chalk.
The city's mayor, Bob Filner, sent a message to Council President Todd  Gloria on June 20 to close the docket against Olson. The memo reads: "This young  man is being persecuted for thirteen counts of vandalism stemming from an expression of political protest that involved washable children's chalk on a City sidewalk."
He said that because Olson doesn't have a criminal record or history of  violence, going on with a full-blown trial would be "a misuse and waste of  taxpayer money" and an infringement on free speech.
A spokesperson for Bank of America told the Daily News that they were  offering no comment at this time.
Another reason to despise Bank of America.
DCG