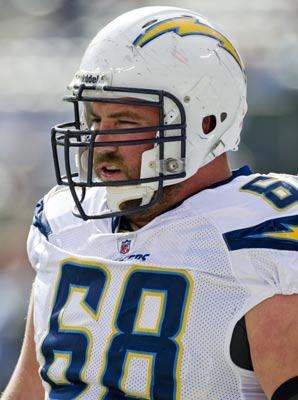 Photo: knowconcussion.org
- Adam Parker
San Diego Chargers guard Kris Dielman will announce his retirement at a news conference Thursday, league sources told ESPN NFL Insider Adam Schefter.
Dielman, a four-time Pro Bowler, was scheduled to earn $5.5 million in 2012, but concussions, including the most recent one, suffered last season against the New York Jets on a controversial play, ultimately persuaded Dielman to hang 'em up and call it a career.
Dielman's decision to retire is a complete 180 degree change in his stance from last month after the 2011 season concluded, when he said he was willing to risk his health in the pursuit of winning that elusive Super Bowl ring.
He missed the final 10 games of the 2011 season after suffering the concussion against the Jets.
The 320-pound Dielman was staggered by the injury early in the fourth quarter Oct. 23, but continued to play on because the Chargers were out of offensive lineman due to other injuries. The team didn't diagnose his condition until after the game.
Dielman later suffered a grand mal seizure on the flight home. An ambulance met the team plane and Dielman was hospitalized overnight.
Ten days after Dielman was injured, the league's injury and safety panel told game officials to watch closely for concussion symptoms in players. Officials were told that if they believed a player had suffered a concussion, they were to take appropriate steps to alert the team and get medical attention for the player.
It's sad to see a player have to retire prematurely as a medical precaution, and unfortunately, it's also becoming frighteningly more common in today's NFL.
Since NFL commissioner Roger Goodell's tenure began back in 2006, he's always advertised that player safety is at the top of his list of duties. During his reign, the league has instituted a rule against helmet-to-helmet collisions. Since the installation of that rule, countless fines and even a few suspensions have been handed down by the league office in violation of the new standards.
After all, the rule is in place to protect the players, which should make it a no-brainer to adhere to, right?
In most situations, yes. There's no doubt.
However, players aren't always conscious of such things when they're caught up in the heat of the moment. As a defensive player, your job is to get stop the ball, however possible. Does that mean players go out on game day with the intention of hurting each other? No way. But regardless of intent, these sorts of bang-bang plays still occur.
What then can the NFL do to lessen the amount of concussions?
To be honest, I don't really have a good answer at this point. The extremists would immediately jump to the idea of disbanding the NFL and removing football from our culture all together.
Needless to say, that would not be a popular choice. Football over the years, I believe, has surpassed baseball as this country's national pastime. Whether we're willing to openly admit it or not, we Americans love the violence of football, we gravitate towards it.
When you think that every single helmet-to-helmet collision is the equivalent force of a car crash, does your mind change about your feelings of the sport when considering the long-term health of the players? I know mine doesn't.
Don't get me wrong, I'm always a little disheartened when I see a player have to leave the field with an injury; even more so when injuries like concussions can have lasting effects on their lives even after their playing days are well behind them.
It truly is a scary thought.
Strides are being taken every day to improve the overall effectiveness of football equipment. The only problem with that is that the players continue to get bigger, faster and stronger as well, to the point that even the best equipment isn't enough to fully prevent injuries like concussions from occurring.
That being said, the NFL is a business. For the players, it's often their main source of income and how they put food on the table for their families. The same can be said for team brass and the owners of businesses in close proximity to the stadiums. The NFL is a cash cow, and despite the controversy surrounding concussions, this cow won't be going to pasture anytime soon.
Be sure to follow Beard And Stache on Twitter 
@BeardAndStache
, 
and also Adam 
@Adam_Parker43
, Like our Facebook page 
HERE
!