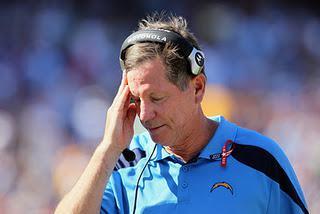 Photo: Zimbio.com
- Troy Ballard
After a disappointing 2011 campaign in which the Chargers missed the playoffs for the second consecutive year and finished the season at (8-8), it appeared to be a lock that head coach Norv Turner was going to be fired, but San Diego's upper-organization has made the decision to give Turner another shot in 2012.
When it comes to replacing coaches, there are a lot of factors to be weighed. It is incredibly difficult for an organization to fire a long-tenured coach, like Turner, and then have to start from square one. Not only is brining in a new regimen a massive change, but it is also incredibly hard to place fair expectations for the new coaching staff.
What happened in San Francisco with the 49ers and Jim Harbaugh is a rare occurrence. The chances of a coach going to any team in the NFL and having a successful season in their first year is incredibly unlikely, and it is difficult to find stability when replacing coaches.
Turner, although having two consecutive bad seasons, overall has been a solid coach for San Diego. In five years, Turner has guided the Chargers to three division wins, and one AFC Championship appearance. However, in the past two years, Turner and the Chargers have slipped to a (17-15) overall record, and have failed to make it to the postseason.
Before becoming the head coach in San Diego, Turner was an offensive coordinator with various teams around the NFL, and also had several head coaching stints with other teams. Turner should have no trouble keeping his offense moving, and that should be the highlight of his team. But the regression of his team shows especially strongly with his offensive players, a sure-fire sign that something is wrong.
Over the past two years, especially this season, the Chargers offense has looked great at times, and then miserably bad at others. No one has taken a more obvious step-back than Pro-Bowl quarterback Philip Rivers. Last season, Rivers had to go into crisis mode to keep San Diego alive, and without him slinging for 300 yards and four touchdowns a game, the Chargers would have not even sniffed .500.
This season, Rivers totally regressed. Rivers made mistakes that were beyond uncharacteristic, looked uncomfortable in the pocket, and broke down with errors late in games when the Chargers needed him the most. I am aware that Rivers was still voted to the Pro-Bowl this season, but that is strictly off of star power, and proves that the voting system is totally broken.
Of course, Turner didn't throw the 20 interceptions that Rivers tossed to defenders, but he did have something to do with it. Looking at the Chargers late in games, the offensive play calling, Turner's role, was questionable at best, and left Rivers with almost no options but to throw into coverage and force passes.
There really is not any other logical explanation for Rivers success to turn into struggles.
The Chargers organization is holding onto some brief hope that Turner can save a sinking ship that is the state of San Diego's team, and it's not realistic. For a team that came so close to a Super Bowl appearance, it's tough to accept a rebuilding process, and San Diego is delaying the inevitable.
Keeping Turner around for one more season is only going to put the team a year back, and Turner will be gone by the end of next year, if not sooner. San Diego dropped the ball, and once next season starts and they see the same problems again and again, they will realize the mistake they have made.
Be sure to follow Beard and Stache on Twitter @BeardAndStache, and also Troy @TroyBallards, Like our Facebook page HERE!