Obama has said that gun control is top on his list of priorities for the remainder of his term, which is 13 months.
The intervals between mass shootings are shortening.
The latest took place this morning in San Bernardino, southern California, at the Inland Regional Center (IRC) that helps people with developmental disabilities.
Like the little children allegedly shot in Sandy Hook, that the latest mass shooting was in an institution for DISABLED people is sure to stoke public outrage.
Police say that "upwards of 14 people" were killed by 3 masked "white male" gunmen in military gear, armed with "rifles," who were seen speeding away from the Center's parking lot in a black SUV. The San Bernardino Police Chief said "They came prepared to do what they did as if they were on a mission." Police have not recovered any weapons, but it is speculated that the gunmen used AK-47s.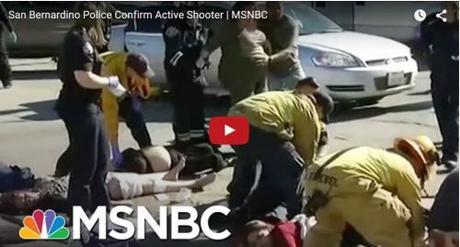 The shooting was first reported at 11 a.m. in a room in the Center which was rented out by San Bernardino County public health officials for a Christmas party. An employee of the building, Brandon Hunt, told CNN that none of the victims were IRC employees. One employee told her husband that as she left the building, she had to climb over bodies.
Nobody has been taken into custody as a result of the shooting and no official description has been released. The assistant director of the FBI said that "they do not know" if today's shooting was terror related.
The San Bernardino Fire Department tweeted that up to 20 people had been shot inside the Center building. The wounded are being treated at Loma Linda University Medical Center.
Due to the many law enforcement agencies on scene, including the FBI and the ATF, ambulances were unable to come close enough to the victims to pick them up. People were using pickup trucks to move the wounded away from the scene. (ABC Los Angeles; NBC Los Angeles)
Democrats immediately made allusions to the need for gun control:
Obama

told CBS News "We have a pattern now of mass shootings in this country that has no parallel anywhere else in the world."

Hillary Clinton

tweeted "I refuse to accept this as normal. We must take action to stop gun violence now."
And just like with previous mass shootings suspected to be false flags, the San Bernardino shooting also just happened to coincide with a nearby drill.
NBC Los Angeles' Kim Baldonado tweeted that the San Bernardino SWAT team was on a training exercise close to where the shooting took place.
Source: Heavy.com
H/t FOTM's MomOfIV and Gingercake
UPDATE:
According to police scanner transmissions and live video from local news helicopters, a black SUV matching the description of a vehicle believed to have fled from the scene of the mass shooting was chased by police. T
he vehicle was shot several times and police said shots were fired at police from inside the SUV. One suspect in the chase was killed and another was wounded. There may be a third person on the run. An officer was wounded, but his injuries are not life-threatening. (Heavy.com)
~Eowyn