Simultaneously with the introduction of the Galaxy S4, Samsung has also introduced a range of accessories for the new smartphone. We will focus here on the most important ones – protective covers and cases.
S View Cover
Let's start with the S View Cover – a new protective case for Galaxy S4. A special feature of the case is a small window on the front cover, so that the time, date, and notifications can be seen without having to open the case. The S View Cover is available in a variety of colours such as yellow, green, blue, orange or pink. Pricing and availability are currently unknown.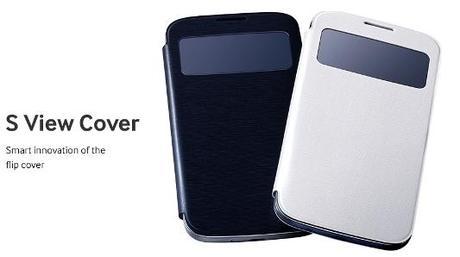 Flip Cover
The Flip Coves are not really new, they are rather popular with Galaxy S3 and Galaxy Note 2, and now they are introduced for Galaxy S4. The only difference is the lack of a window that is present on S View cover. Here, too, Samsung has many variants when it comes to colours available.
Leather Case
Samsung has also introduced classic leather pouch, offering full-body protection, but keep in mind that you need to take the phone completely out of the case every time you need to use it.
Protective Cover +
Unlike the S View Cover,  Cover + comes with no front flap, meaning it protects only the back of the phone.