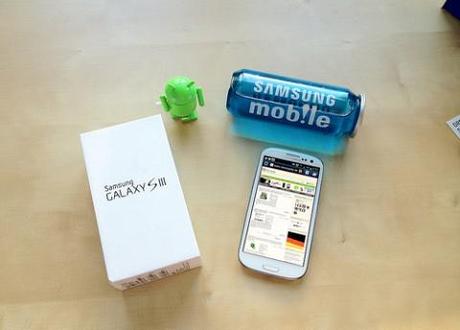 The Galaxy S3 was released on 29 May. Photo credit: Stereopoly
The background
Samsung have released their new smartphone, the Galaxy S3, prompting many reviewers to comment that this could be a rival for the market-dominating iPhone.
Marrying form and function, the Galaxy S3 has been much anticipated as the Android rival for the iPhone 5, which has not yet been released.
Despite some small niggles, almost all of the reviewers have lavished praise for the Galaxy S3. Stuff said "simply put, the Galaxy S3 offers the slickest Android experience we've had to date and brings iPhone-like levels of smoothness to the Google camp at long last."
So does the reality match up to the hype? The Periscope Post has examined the commentary.
Big and beautiful screen
Commentators say that the large 4.8-inch Super AMOLED screen is a success; The Guardian described it as  "enormous" and "gorgeous." Trusted Reviews said that the phone "looks amazing, packing in a huge amount of detail and making it great for web browsing." Stuff said that "the AMOLED display's colours are vibrant, popping out from the screen and adding an extra spark." The Verge concurred: "As big as the display is, it doesn't make the phone feel terribly unwieldy".
A nice handful 
The Verge praised the feel of the handset - "it's thin, light, and shaped just right to make handling it a joy" – but dissed the faux-metal finish – "it makes the Galaxy S III look cheap". The Guardian liked the handset but insisted that it's perhaps a little on the large size: "people with small hands may struggle. I certainly wouldn't want a bigger device to use as a phone".
Auto-brightness is a winner
The new smartphone has an auto-brightness setting which adapts to different light environments. The Verge said that "phone tends to lean toward under-illuminating itself, making it usually a little too dark for comfortable use," while The Guardian said "although not completely perfect, this is an excellent addition that should become a standard feature on all new smartphones, patent wars not withstanding."
Snappy snaps
As for the handset's 8 mega-pixel camera, Stuff said it "fires up in seconds and can snap shots even faster. So fast, in fact, you might not realize you've actually taken a photo." The phone's face-detection feature only partly impressed The Verge's reviewer, who said "the phone identified a person's face accurately, but also put a potential face tag on an area of fencing."