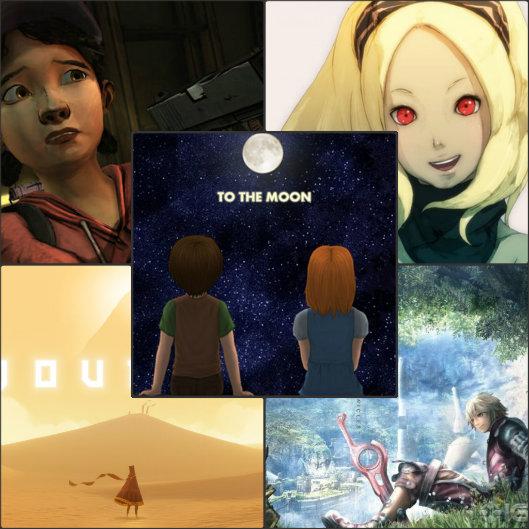 I've done two Top 5's this week, and I thought I would mix it up a little.  I've discussed my favorite shooters and RPGs for 2012, now I wanted to cover some of the music featured in these games.  I've always been a big fan of video game soundtracks, so this was an easy category for me.  

5. Gravity Rush
I'm gonna be honest, Gravity rush was overlooked by pretty much everyone.  It didn't really sell all that well, and i don't understand why.  It was a terrific game, and it had an even better soundtrack.  It seemed that each one of the tracks were catchy and had me bouncing my head or tapping my feet.  It was composed Kokei Tanaka, a guy mostly known for his extensive work in the anime business.  He's done a lot of work in games as well, and from an educated guess, Gravity Rush is his best work yet.  The overall game had a fantastic orchestral score, and it should definitely be listened too.
4. Xenoblade Chronicles
I recently gave Xenoblade my RPG of the  year, and a big factor was the music.  It was just beautiful, the main theme alone reminded me of "To Zanarkand" from Final Fantasy X, one of my favorite pieces of all time. Yoko Shimomura did what she does best, creating emotion from her music, just like in Kingdom Hearts composition.  Dearly Beloved has finally met it's match.  You're going to be hearing the Main Theme below, so you can judge for yourself.
3.  Journey
The Grammy nominated composition by Austin Wintory has to be on my list, it carried the load in Journey.  There was no talking in the game, no human interaction besides coming across random players making their way through the game as well.  This put the music front and center, and it delivered with a powerful performance that evoked so much emotion.  I'm going to post my favorite piece from Journey below, Apotheosis.
2. The Walking Dead
The Walking Dead was one of my favorite games this year, it was a sorrowful yet memorable adventure.  There was so much emotion expressed through the characters, and the music was a big reason for this.  The soundtrack setup the dramatic scenes perfectly, filling the rooms with gloomy tones, and dreadful story elements.  It was hard to choose just one for you to listen too, but I think I chose the right one.


1.  To The Moon
To The Moon really stole this category for me, it was my favorite soundtrack and also my favorite indie game this year.  It was more emotional than the Walking Dead, but that's just me.  It was one of the more tragic love stories I've ever witnessed.  I have two songs for you to listen too.  It was impossible for me to just choose one, hope you enjoy!