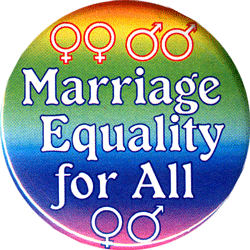 As we see the religious right take another hit or two on the chin from the masters of the conservatives -- Business, NOT Jesus, not conservative organized religion -- it is worth a mention of some of the history behind legislation against same sex marriage.
Conservatives want us all to take their sloppy scholarship view that marriage has always been exclusively between one man and one woman.  Apart from the painfully obvious facts that monogamy is not a societal or historical by any stretch of the imagination, the idea that same sex marriages have not been a fixture in human history is also a mistaken one. 
For those of you contemplating sitting across from crotchety old relatives as likely to be wearing a tin foil as wrapping up holiday leftovers with it, here is a bit of background for you, should you opt to present the facts to the minds inside those tin foil hats.
The current challenge for the legality of same-sex unions arguably can be traced to Hennepin County,  Minnesot, back in 1971, when two gay men attempted to get married.  The case went all the way to the Minnesota Supreme Court, which found that while there were no actual laws defining marriage one way or the other, they found instead that a basis for exclusively heterosexual marriage existed in common law.  That argument is still being pushed -- factually falsely -- by some conservatives, including the radical (one might say rabid) religious right.
From an article about the case, in the HuffPo back  in 2012:
Jack Baker And Michael McConnell, Couple In 1971 Minnesota Gay Marriage Case, Still United


"I am convinced that same-sex marriage will be legalized in the United States," Baker told a group of lawyers on Oct. 21, 1971, quoted then by the St. Paul Pioneer Press (in a story that described him as an "admitted homosexual"). But for years after the high court refused to hear arguments in Baker v. Nelson, its single sentence was cited as precedent by federal courts that ruled against same-sex unions.




.."The fear then wasn't that you'd be discriminated against, that was a given," said Jean Tretter, a member of FREE who went on to decades of gay activism in Minnesota. "You were a lot more afraid that someone might come after you with a shotgun."

Baker and McConnell – educated, clean-cut and handsome – contrasted with the typically scruffy counterculture activists of the era. But the Hennepin County attorney blocked their bid for a marriage license, a decision upheld by a district judge and affirmed by the state Supreme Court with reasoning that echoes in today's arguments against gay marriage: "The institution of marriage as a union of man and woman, uniquely involving the procreation and rearing of children within a family, is as old as the Book of Genesis."

It was a stormy time for the couple. Soon after McConnell relocated to Minnesota, the University of Minnesota's Board of Regents yanked his job offer because he was openly gay; the U.S. Supreme Court rejected his separate lawsuit to get it back. In April 1971, amid both legal dramas, Baker was elected and then a year later re-elected as president of the university's student government.

Two decades after the U.S. Supreme Court dismissed Baker v. Nelson, the Hawaii Supreme Court in 1993 ruled that homosexuals had a constitutional right to marry. It started the ball rolling on a movement that has seen many victories and setbacks since.

"Jack was the politician – outgoing and effective, manipulating the material world," said Roger Lynn, a retired Methodist pastor who performed a marriage ceremony for the men in 1971, and who remains in touch with them occasionally. "Michael was the librarian, detail-oriented, more introverted. They were a good match, and they're still making it work."

In a strange twist to their story, Baker wrote via email that he and McConnell would be personally unaffected if Minnesota legalizes gay marriage. In 1971, about 18 months after Hennepin County rejected their application, the couple traveled to southern Minnesota's Blue Earth County, where they obtained a marriage license on which Baker was listed with an altered, gender-neutral name.

That license was later challenged in court but was never explicitly invalidated by a judge.
So this was the first legally gay married couple in Minnesota -- well before any passage of same-sex marriage equality laws anywhere else in the U.S., and well before any 21st century law was passed here.
These men had a genuine reason to fear violence as well as sexual orientation discrimination in employment -- or housing, or anywhere else that might involve "public accommodation" with discrimination of services. On June 5, 1979, a gay man, Terry Knudsen, was beaten to death by three men in Loring Park, Minneapolis, Minnesota. On September 7, 1979, another gay man, Robert Allen Taylor, was stabbed to death in the same area, by a murderer who made the statement, "I don't like gays, OK?".
Baker and McConnell were not the only LGBT individuals attempting to marry legally in that period, which in turn seems to have been the catalyst for the codification in law of exclusively heterosexual marriage:
Another couple challenged same-sex marriages in 1971. Faygele Ben-Miriam and Paul Barwick applied for a marriage license in Seattle as a statement of equality between homosexuals and heterosexuals. The county auditor refused their application. However, other couples that encountered rejection took notice of their action, helping to spark a media flurry and the popular lawsuitSinger vs. Hara. Ultimately, the Washington State Court Appeals rejected their case with a unanimous decision in 1974.

Those two cases were among the first of many concerning same-sex relationships to emerge in the 1970s. In 1973, the state of Maryland banned same-sex marriage. In 1975, the Arizona Supreme Court invalidated a same-sex marriage license granted to a couple by reason of "trespassing biblical principles." In Colorado, a county clerk issued six same-sex marriage licenses, which, despite the efforts of a Colorado lawyer on behalf of the same-sex couples, later which became invalidated by state's DA's office later.
It's too bad that the scholarship back in 1970-71 was not what it is today; that court decision might have been very different.  Now we know that being gay is normal, not deviant - something established in this same era.  We also know that contrary to the statement about heterosexual marriage being the standard, the norm, cited in the legal decision on the initial attempt of Baker and McConnell to marry, that same sex marriage has existed across history, including within all branches of Christianity, and from pre-history to present in all parts of the globe.
From the LawyersGunsMoneyblog:
"If you have access via a library to the latest edition of the Journal of American History, I highly recommend Rachel Hope Cleves' article on the prehistory of same-sex marriage. And if you can't read it, she did a podcast you can listen to. She basically tracks down a long history of gay marriage, going back to berdaches among southwestern indigenous peoples through gold miners in 19th century California and to many cases throughout American history of people accepting marriage and marriage-like arrangements between same-sex couples."
And as also noted by Legal Match Law Library:
The Ancient Roman Empire did not shy away from same-sex unions, and there was widespread acceptance of homosexuality and bisexuality among the Roman citizens. Moreover, many of the early Roman emperors were in homosexual relationships. Nero, an early Roman emperor, was known for his homosexuality, and had been married to two men at different points in time.
Then there was the definitive work of the chair of the History Department at Yale, the late Professor Boswell,
via the Anthropologist Live Journal
:
Records of Christian same sex unions have been discovered in such diverse archives as those in the Vatican, in St. Petersburg, in Paris, in Istanbul and in the Sinai, covering a thousand-years from the 8th to the 18th century.

The Dominican missionary and Prior, Jacques Goar (1601-1653), includes such ceremonies in a printed collection of Greek Orthodox prayer books, "Euchologion Sive Rituale Graecorum Complectens Ritus Et Ordines Divinae Liturgiae" (Paris, 1667).

While homosexuality was technically illegal from late Roman times, homophobic writings didn't appear in Western Europe until the late 14th century. Even then, church-consecrated same sex unions continued to take place.

At St. John Lateran in Rome (traditionally the Pope's parish church) in 1578, as many as thirteen same-gender couples were joined during a high Mass and with the cooperation of the Vatican clergy, "taking communion together, using the same nuptial Scripture, after which they slept and ate together" according to a contemporary report. Another woman to woman union is recorded in Dalmatia in the 18th century.

Prof. Boswell's academic study is so well researched and documented that it poses fundamental questions for both modern church leaders and heterosexual Christians about their own modern attitudes towards homosexuality.

For the Church to ignore the evidence in its own archives would be cowardly and deceptive. The evidence convincingly shows that what the modern church claims has always been its unchanging attitude towards homosexuality is, in fact, nothing of the sort.

It proves that for the last two millennia, in parish churches and cathedrals throughout Christendom, from Ireland to Istanbul and even in the heart of Rome itself, homosexual relationships were accepted as valid expressions of a God-given love and committment [sic] to another person, a love that could be celebrated, honored and blessed, through the Eucharist in the name of, and in the presence of, Jesus Christ.