A Girl for All Time has been releasing sneak peeks of their new doll Sam, Your 1960's Girl, for a while, but now we finally have a full body promotional photo!!!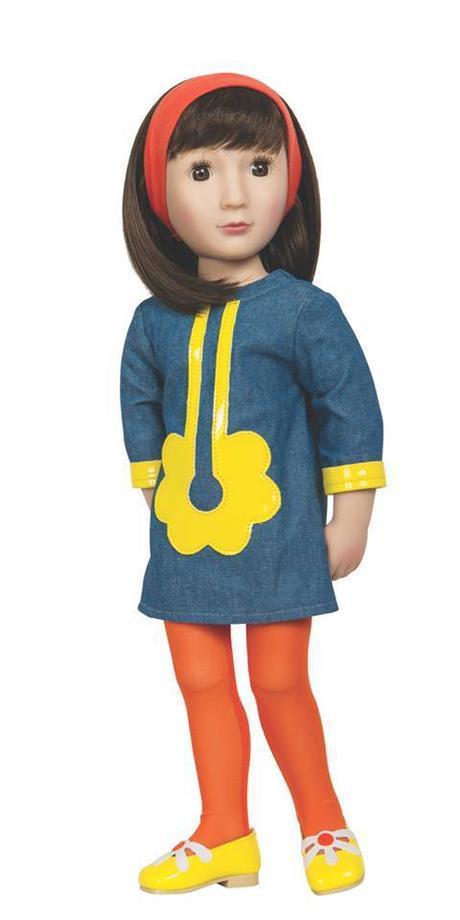 Sam, 1960's Girl
Sam is living in the 1960's, if you couldn't tell from her fantastic 'mod' fashion. Here's a few more fun facts about Sam.  Fun fact #1: Frances Cain, mastermind behind this doll line, named this doll after her real life daughter.
Fun fact #2: The outfits were designed with the help of Thimbles and Acorns and Keepers Dolly Duds. Both of these companies make wonderful patterns scaled for this doll line and others in the 18″ realm. If I was at all talented in sewing, which I'm not, I would be making many of these outfits for my dolls.  As far as Sam's outfit goes, I am loving the colors. And the shoes? I totally 'dig' them.
Fun fact #3: If you have followed the timeline closely enough, you'll have noticed that Sam is the right age to be directly related to one of the dolls we've seen before.  Sam is the daughter of Clementine, the 1940's girl!  This is the first time a doll has been so closely related to another within this line.  (Remember, they're all part of the same family tree!)
Everyone is very excited about this release, no one more so than I!  I was actually able to see a prototype of this doll back in February. One of the perks of being a blogger!  It's so exciting to see that other collectors are reacting with the same positive excitement I did many months ago.
Sam will be available to purchase in September, but in the meantime, keep an eye on A Girl for All Time's facebook page, fan group, pinterest, twitter and website.
You can also find the company on YouTube.
If you have time, I'd recommend checking out Barbee0913's review of Clementine, a gift from her loving daughter (aka me).  You will find that video below.
If you'd like to revisit some of my reviews of past dolls in this great line, you will find those here.  What do you think of Sam, the 1960's girl?  Leave your thoughts below!
July 21, 2015. Tags: A Girl for All Time. Articles and Doll Histories, Uncategorized.