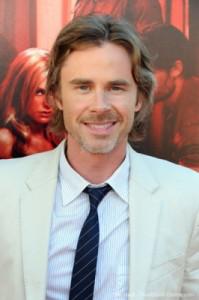 True Blood's Sam Trammell will be traveling to Spain next fall to attend the "Welcome to Fangtasia" Convention. It is the first ever True Blood convention to be held in Spain.
The convention is to be hosted by StarDreams Events and Sam is their first announced guest star.  He will attend the two-day event to sign autographs and pose for photos with all the fans. He will also respond to questions in a Q&A and meet with the fans for cocktails Saturday afternoon.
Don't miss meeting the owner of our favorite bar, "Merlotte's" in person when the convention takes place from September 28-30, 2012. It all takes place in the city of Barcelona and hotel and other information will be released soon.
More information can be found at: stardreamsevents.com