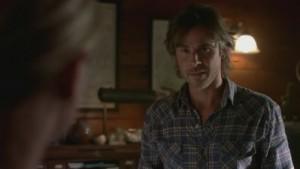 Connect.hbo.com conducted a live Q & A with Sam Trammell and lucky fans. Trammell was only able to answer 30 questions, though many more were asked.  After being introduced, he cheerfully said:
"Hey! I'm so excited to be here. I'm gonna try to answer as many questions as possible. Let's do this!"
He then went on to answer fan questions. There were a variety of questions asked, for example:
"Are you currently working on anything else other than True Blood? Will you do any movies in the future?"
Trammell answered:
"I'm just waiting on these babies right now…"
Another fan asked,
"How do you feel about Sam's new love interest?"
His response:
"Janina is an exceptional actress and fun and funny — so I love working with her — and I think Luna is good for Sam right now (she's not leading him to be staked in the heart at least)."
We learn that he has been acting for twenty years, that he loved playing Tommy as Sam, and that he'd like to see everyone on the show turn into Sam at some point. You can view all the questions and answers via this link.
Let us know what you think, and what you would have asked if you had participated in the Q and A. Leave a comment in the comment section below.
Source: connect.hbo.com
(Photo credit: HBO, Inc.)