<a href="http://polldaddy.com/poll/9771633">Take Our Poll</a>

The poll has had a good run
and will close roughly 12 hours from now as I start writing, that is a little before midnight. The final vote will be visible at a click, and will be repeated here.
As you see, the question was whether, between them, Ellis Short and Martin Bain were – with their wretched dithering – destroying any hope of an immediate return to the Premier League.
It remains to be seen whether, with the withdrawal of the fans' consortium, a deal is quickly struck with the German suitors who are decidedly not fans having previously wanted Hull City and, for all we know, keeping other clubs in their sights if negotiations with SAFC fall through. If they do buy us out, Monsier Salut sincerely hopes they are not fans, either, of the latest name in the managerial hat – a certain Mr Pardew.
More than 300 people have voted, not a bad sample. As I write, the standings looked like this:
* Yes 68.2 per cent
* Not if an appointment (of manager) is made by the end of the month 16.7 per cent
* Maybe 10.3 per cent
* Not at all. They can take as along as they wish (response suggested tongue in cheek) 3.5 per cent
The suggested answers did not cover everyone's thoughts on the topic. That was why some, the London SAFCSA branch founder Ian Todd among them, did not vote.
A few others (1.3 per cent) have taken up the option of adding their own responses. There were four of these:
1 They are taking us down to League 1
2 Replace the whole group managing the club. Bring in enthusiastic people
3 We were never going to go straight back up. we need couple of year to rebuild.
4 Short shoulders the blame. Bain working with tied hands.
So this is you last chance to have a say if you haven't already.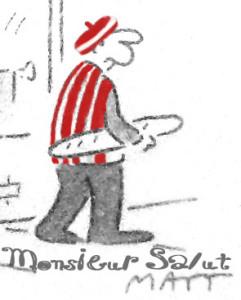 M Salut, drawn by Matt, colouring by Jake