For travelers, Singapore cuisine almost always equates to hawker food. But away from the steaming, fiery woks of Maxwell Food Center, in the most refined venues in the rich city-state exist superb dining destinations recommended for visitors who've already gone through enough noodles and chicken rice. One such place is Salt Grill & Sky Bar by Luke Mangan, a restaurant that marries wonderful food with spectacular views of the Lion City. Read more…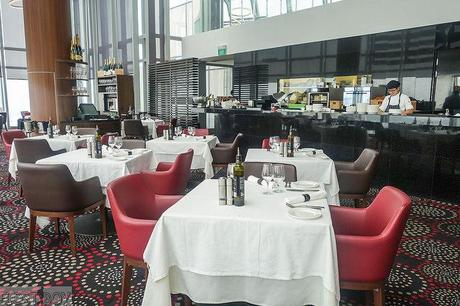 Exclusively nestled on the 55th floor of Singapore's most exciting shopping destinations, ion Orchard, Salt grill & Sky bar is the brainchild of Australian celebrity chef Luke Mangan. The theme is Modern Australian, which according to them is "an intersection of influences from cuisines around the world, with much emphasis placed on the provenance and freshness of the ingredients used, as well allowing the natural flavours of these ingredients to shine through."
At the helm of the kitchen is Executive Chef Matthew Leighton who at 27 is the youngest executive chef in Luke Mangan's group of restaurants. But despite his age, he has proven his competency after landing culinary posts at the Hilton Sydney and the highly-awarded Glass Brasserie also by Luke Mangan.
After confirming my reservation at the restaurant's reception at the fourth floor, I was escorted to the high-speed elevator reserved for the 55th floor alone. What welcomed me was an expansive main dining hall, which as I learned, had just gone through a renovation with the help of award-winning interior design firm designphase dba. Sleek furnishing in somewhat somber colors were complemented with mood-enhancing light sculptures to establish a chic modern dining atmosphere in the dining hall, the bar, and the private dining area at the mezzanine.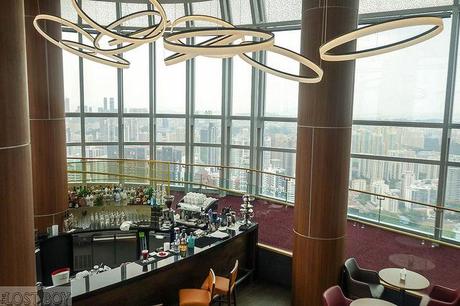 Thanks to the enormous floor-to-ceiling windows, the restaurant offers an unobstructed, 360-degree view of the city, which adds further to the experience. This is why the city's most stylish find themselves not only at the restaurant but also at the snazzy bar that serves sensational drinks.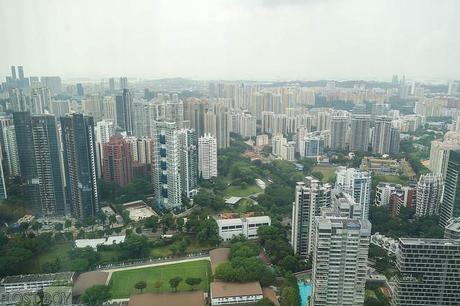 As I was seated, I was offered a mocktail, the Salt Cooler, a refreshing medley of strawberries, raspberries, blackberries, lychee, apple and cranberry juice, and lemonade. Alongside is the usual plate of warm bread with Luke Mangan's olive oil and interestingly, dukkah, which is a mix of macadamia, cashew, sesame, cumin, coriander, and salt with Egyptian origins.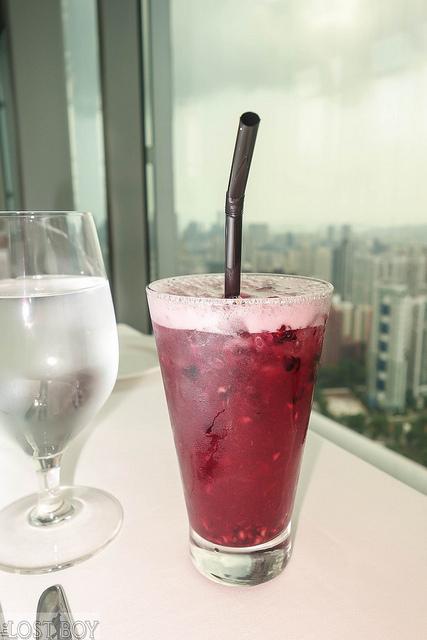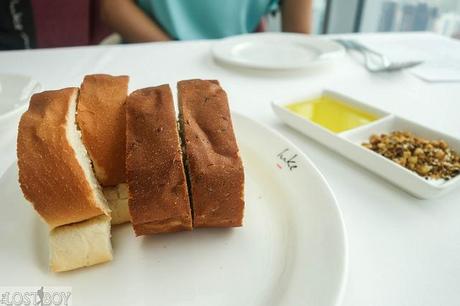 The meal started with an amuse bouche, Coconut broth with Sydney spice. Infused with a mix of kaffir lime leaves, lemon myrtle, turmeric, ginger, galangal, chili, garlic, and salt, the broth was foamed, resulting to a creamy yet light emulsion. It was as clean as it was delightful.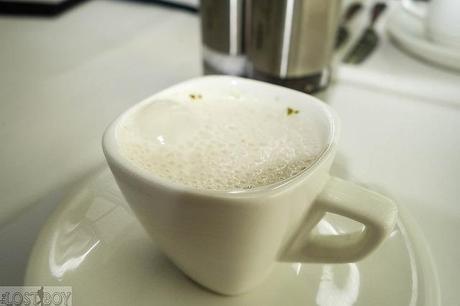 The first course came momentarily after; it was Sashimi of kingfish, ginger, eschalot, and goats feta. Note that feta was put at a minimum—as a subtle addition rather than a main ingredient—to give way to the star of the show, the beautifully-smooth kingfish accented by the ginger.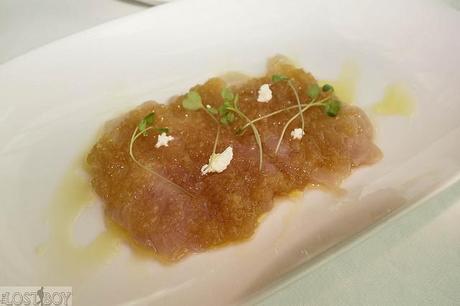 I was also served a vegetarian dish—Baby vegetables, goats curd, ginger bread crumbs, dried black olives. Serving as the protein is the goat's curd, which added depth and gaminess to the colorful selection of vegetables. Even as a full-pledged meat eater, I found it quite enjoyable, and it was a nice prelude to the consequent meat courses.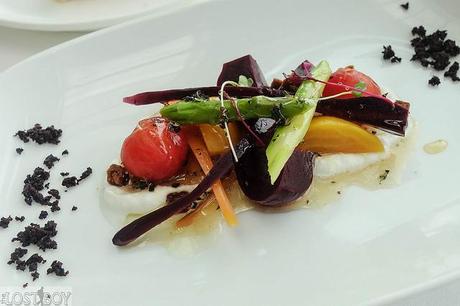 Next was 'glass' Sydney crab omelette, enoki mushroom & herb salad, miso mustard broth. The flavorful miso mustard broth did its job in amplifying what could've been a simple crab and mushroom omelet. It was delicious, and I wanted seconds.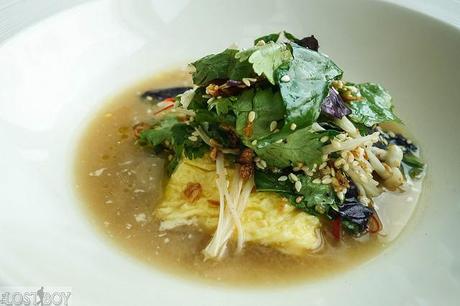 First among the two entrees was Tea smoked quail, almond cream, prunes, grains, grilled shallot, sorrel. While I thought the quail would either be tough or too chewy, what was presented to me was very tender and easy to the bite. The thin veil of sauce added the sweetness that I liked, and the mild almond cream was delightful to swab onto the meat.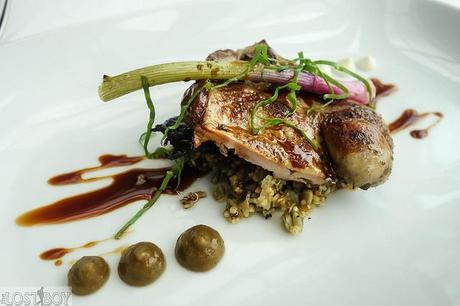 As a fan of steak, I loved the Sirloin Rangers Valley, New South Wales, 300 days grain fed, Moroccan spice, sauté spinach, eggplant puree, red wine sauce paired with 2010 Chris Ringland, North Barossa Vintners Shiraz, Barossa Valley SA. The succulent meat was gorgeously cooked, and surely, it was flavorful and satisfying. I finished all the sautéed spinach too because strangely, it reminded me of what we cook back here in the Philippines.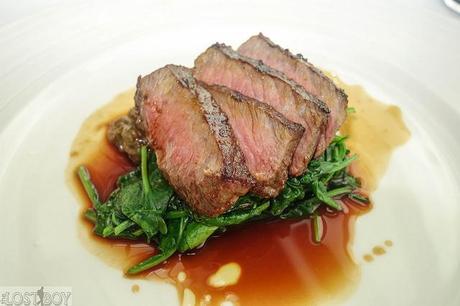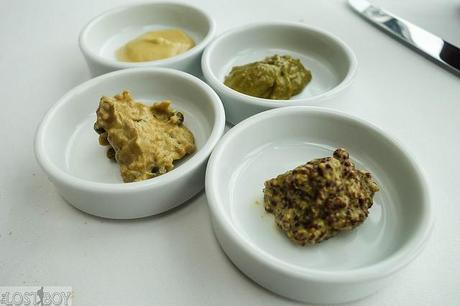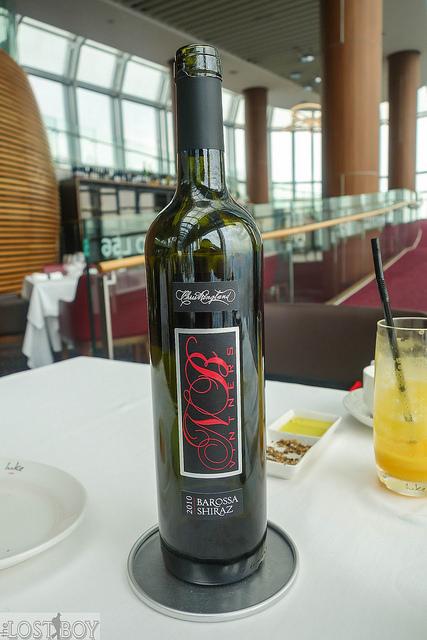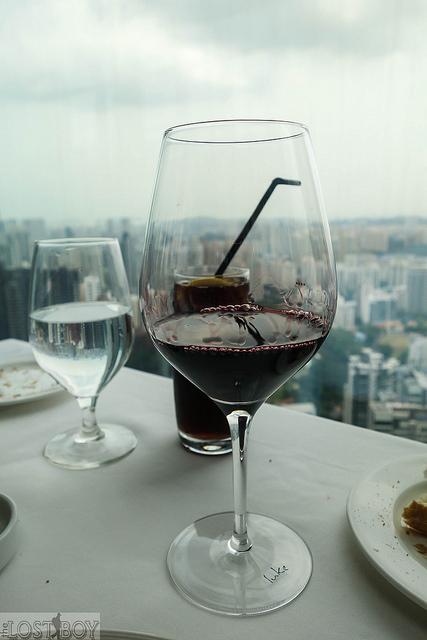 For dessert, I was served Luke's liquorice parfait, lime. Honestly, I was apprehensive to try it, since I'm not fond of licorice, but the ice cream turned out to be very pleasant and comforting. It actually somewhat reminded me of matcha green tea ice cream. It was followed by a beautifully-crafted latte shortly after.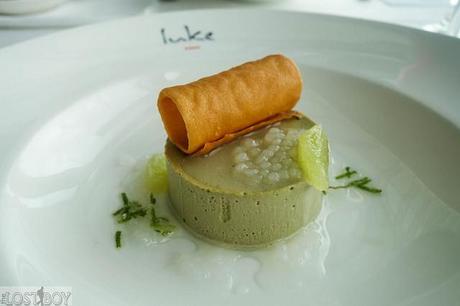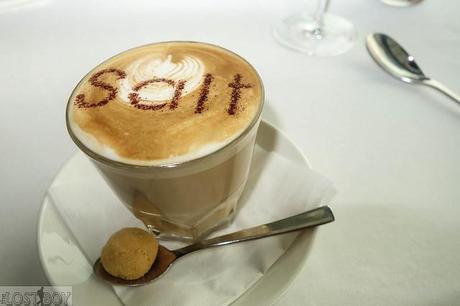 SALT GRILL & SKY BAR
55th and 56th floors, ION Orchard, Orchard Turn, Singapore
Hours: 11:00 AM – 11:00 PM daily
Telephone: +65 6592 5118
Website: www.saltgrill.com
Notes: Lunch sets start at 45++ SGD (~1530 PHP) and dinner at 150++ SGD (5100 PHP).

Tigerair flies from Manila NAIA, Clark, Kalibo and Cebu to Singapore. Passengers can also take advantage of Tigerair's extensive regional network and visit Maldives, China, India, and beyond because at the award-winning Changi Airport, connections are easy with Tigerconnect. Book the cheapest fares at Tigerair.com, and follow their Facebook and Twitter for updates and promos.