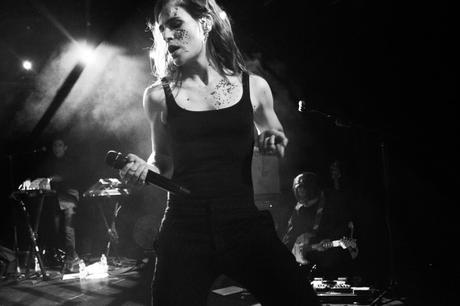 Photos by Matthew Solarski
Two of the fastest rising indie pop acts around took the stage at LPR on Tuesday for a show filled with light shows, dancing and, well, more dancing. The night started off with hard working Salt Cathedral, who took their minimalistic sounds to a stage filled with shifting light orbs. The duo, armed only with a guitar and sampling pad, engaged the crowd easily with their take on electro-pop. It was the prefect prelude to the energetic insanity that was to come.
Christine and the Queens came out to the immediate roars of the crowd, and those who were unsure of what to expect were soon blown away by one of the better shows that LPR has seen in some time. Christine and her band, which included two absolutely mesmerizing dancers, put on an incredibly effervescent and energetic show. Everything from the her flawless vocals to the seemingly spontaneous choreographed dancing to the fact that she worked the crowd like a star comedian was absolutely charming. Christine and the Queens is an must see — and do it soon because she'll be packing stadiums the world over in a matter of time.
Milk and Bone






Salt Cathedral








Christine and the Queens