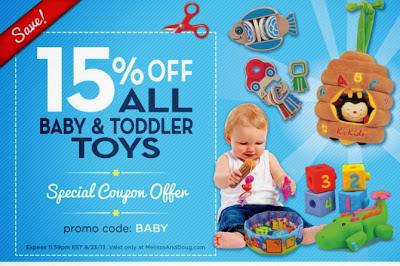 Melissa & Doug is having a fabulous sale on all baby and toddler toys! Click on the link below to get 15% off now. Hurry! Ends 9/23! 
15% Off All Baby & Toddler Toys Now At MelissaAndDoug.com! Use Code: BABY at Checkout!
*This post contains affiliate links. Affiliate links help to cover the costs of running this blog. Thanks!

Marissa is a stay-at-home mom who writes pregnancy and parenting articles on HubPages as ThePracticalMommy, as well as shares her motherly escapades on Mommy Knows What's Best.