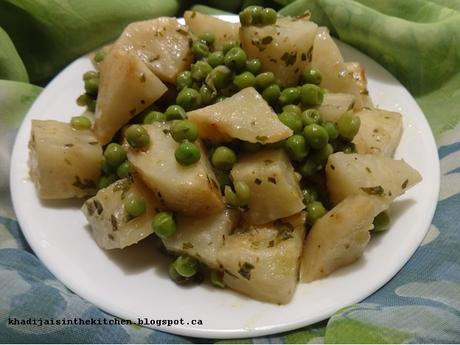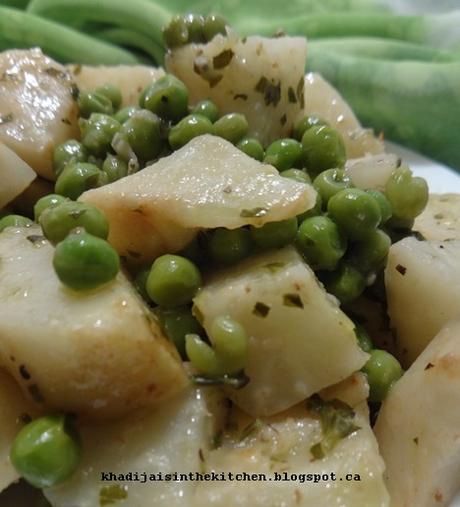 RECETTE / RECIPE / RECETA /الوصفة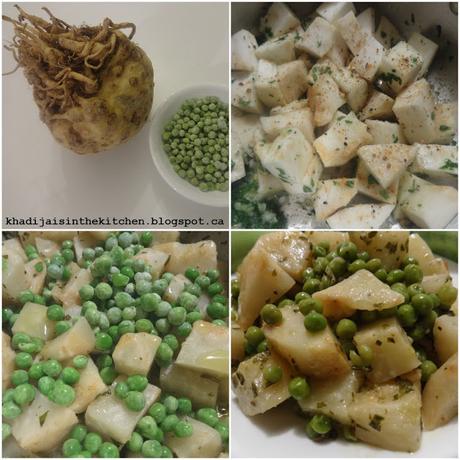 Salade de céleri-rave et petits pois
INGRÉDIENTS ET PRÉPARATION :
1/2 céleri-rave
1 petit oignon
2 gousses d'ail
Une petite poignée de coriandre
100 g de petits pois congelés
1½ cuillère à soupe d'huile d'olive
¼ cuillère à café gingembre moulu
Sel et poivre
Dans une marmite, verser l'huile, ajouter l'ail râpé et l'oignon émincé et la coriandre hachée. Laisser cuire à feu moyen 3-4 minutes.
Ajouter le céleri-rave coupé en dés. Laisser cuire jusqu'à ce qu'il devienne un peu tendre.
Ajouter les petits pois et laisser cuire environ 5-8 minutes. Servir la salade tiède ou froide.
******************************
CELERIAC AND PEAS SALAD
INGREDIENTS AND HOW TO:
1/2 celeriac
1 small onion
2 cloves garlic
A small handful of c

ilantro
100 g of frozen peas
1½ tablespoon olive oil
¼ teaspoon ground ginger
Salt and pepper
In a pot, pour the oil, add the grated garlic

,

the minced onion and the cilantro chopped. Cook over medium heat about 3-4 minutes.
Add the celeriac diced. Let cook until a little bit tender.
Add the peas and cook about 5-8 more minutes.
Serve the salad warm or cold.
**********************************************
Ensalada de APIO NABO Y GUISANTES
Ingredientes y Elaboración:
1/2 apio nabo
1 cebolla pequeña
2 dientes de ajo
Un pequeño puñado de cilantro
100 g de guisantes congelados
1½ cucharada de aceite de oliva
¼ cucharadita de jengibre molido
Sal y pimienta
En una olla, verter el aceite, agregar el ajo rallado y la cebolla y el cilantro picados. Cocinar a fuego medio durante 3-4 minutos.
Agregar el apio nabo, cortado en dados. Cocinar hasta que vuelve un poco blando.
Añadir los guisantes y cocer unos 5-8 minutos.
Servir la ensalada templada o fría.
**********************************************
سلطة الكرفس اللفتي والبازلاء
المكونات وطريقة التحضير:
نصف كرفس لفتي
بصلة صغيرة
فصان من الثوم
قليل من الكزبرة الخضراء
100 غرام من البازلاء المجمدة
ملعقة كبيرة و نصف زيت زيتون
ربع ملعقة صغيرة من الزنجبيل المطحون
ملح و فلفل
في وعاء، يصب الزيت، يضاف الثوم المبشور والبصل ,
 و القزب

رة المفرومين

. 
يطهى الكل على نار متوسطة لمدة 3-4 دقائق.
يضاف الكرفس اللفتي مقطع إلى مكعبات و يطهى الى حين يصبح لينا بعض الشيء.
تضاف البازلاء ويواصل الطهى حوالي 5-8 دقائق اضافية.
تقدم السلطة فاترة او باردة.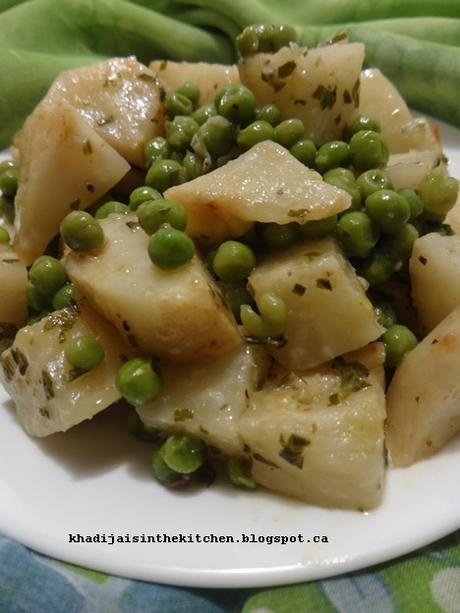 *******************
Hope you'll enjoy!!
*******************
Merci de votre visite / Thank you for your visit /Gracias por su visita/

شكرا على زيارتكم
Pour d'autres idées de cuisine / For other cooking ideas / Para otras ideas de cocina /

من اجل افكار اخرى للطبخ

:

Facebook

,

Instagram

,

Pinterest