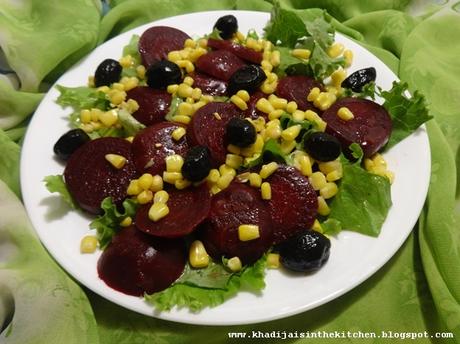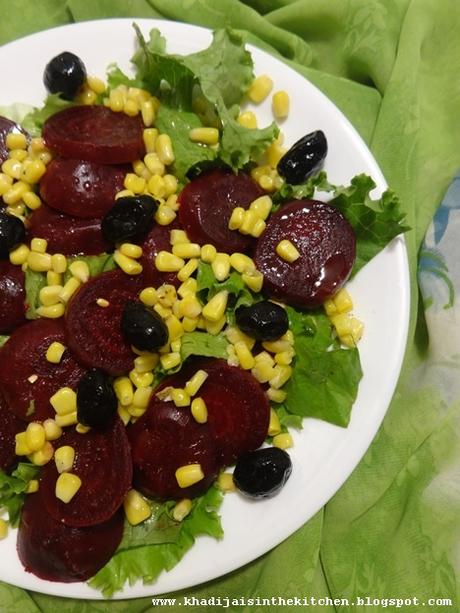 RECETTE / RECIPE / RECETA / الوصفة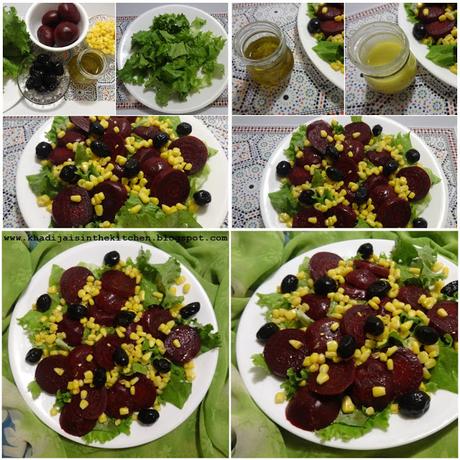 SALADE DE BETTERAVE, MAIS SUCRÉ ET OLIVES NOIRES

INGRÉDIENTS :
2 grandes feuilles de laitue frisée verte, lavées et coupées en morceaux
5 petites betteraves (environ 220 g) cuites, coupées en rondelles
60 g de mais sucré en conserve
Quelques olives noires
VINAIGRETTE :
15 ml de vinaigre blanc
30 ml d'huile d'olive
1/8 cuillère à café de sel
1/8 cuillère à café de poivre
MÉTHODE DE PRÉPARATION :
1- Verser tous les ingrédients de la vinaigrette dans un contenant en verre avec un couvercle. Fermer le contenant et agiter vigoureusement jusqu'à l'obtention d'une consistance homogène. Garder au réfrigérateur jusqu'au moment d'utilisation.
2- Dans un plat de service, placer les morceaux de laitue, les rondelles de betterave, le mais sucré et les olives noires, puis verser dessus la vinaigrette.
**************** 
BEETROOT, SWEET CORN AND BLACK OLIVES SALAD
INGREDIENTS:
2 large leaves of a green leaf lettuce, washed and cut into pieces
5 small beetroots (about 220 g) cooked and cut into slices
60 g canned sweet corn
Some black olives
VINAIGRETTE:
15 ml white vinegar
30 ml olive oil
1/8 teaspoon salt
1/8 teaspoon pepper
HOW TO:
1- Pour all the ingredients of the vinaigrette into a glass container with a lid. Close the container and shake vigorously until a homogeneous consistency is obtained. Keep refrigerated until use.
2- In a serving dish, place the lettuce pieces, the beetroot slices, the sweet corn and the black olives, then pour the vinaigrette over them.

****************
ENSALADA DE REMOLACHA, MAIZ DULCE Y ACEITUNAS NEGRAS
INGREDIENTES:
2 hojas grandes de lechuga hoja de roble verde, lavadas y cortadas en trozos
5 remolachas pequeñas (unos 220 g) cocidas y cortadas en rodajas
60 g maíz dulce enlatado
Unas aceitunas negras
VINAGRETA:
15 ml de vinagre blanco
30 ml de aceite de oliva
1/8 cucharadita de sal
1/8 cucharadita de pimienta
ELABORACIÓN:
1- Verter todos los ingredientes de la vinagreta en un recipiente de vidrio con tapa. Cerrar el recipiente y agitar vigorosamente hasta obtener una consistencia suave. Colocar en la nevera hasta el momento de usarla.
2- En un plato de servir, colocar los trozos de lechuga, las rodajas de remolacha, el maíz dulce y las aceitunas negras, luego verter la vinagreta encima.
****************

*
سلطة البنجر و الذرة الحلوة و الزيتون الاسود
المكونات:
ورقتان كبيرتان من
الخس ذو الأوراق الخضراء
، مغسولة و مقطعة.
5 حبات بنجر صغيرة (حوالي 220 غرام) مطبوخ ومقطّع إلى دوائر.
60 غرام ذرة حلوة معلبة
بعض حبات الزيتون الأسود
الصلصة:
15 مليلتر من الخل الأبيض
30 مليلتر من زيت الزيتون
1/8 ملعقة صغيرة من الملح
1/8 ملعقة صغيرة من الفلفل
طريقة التحضير:
1- تصب جميع مكونات الصلصة في وعاء زجاجي بغطاء. يغلق الوعاء و يحرك 
بقوة الى حين الحصول على خليط منسجم. يحفظ في الثلاجة الى حين الاستعمال.
 

2- في طبق التقديم ، توضع قطع الخس و دوائر الشمندر و الذرة الحلوة 
و الزيتون الأسود ثم تسكب فوقهم الصلصة.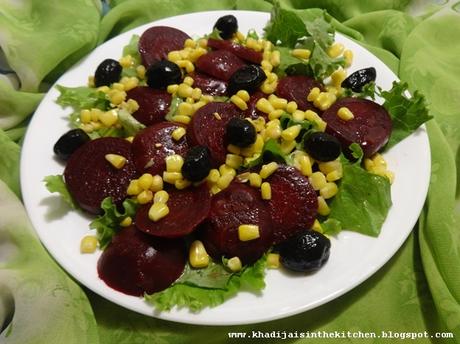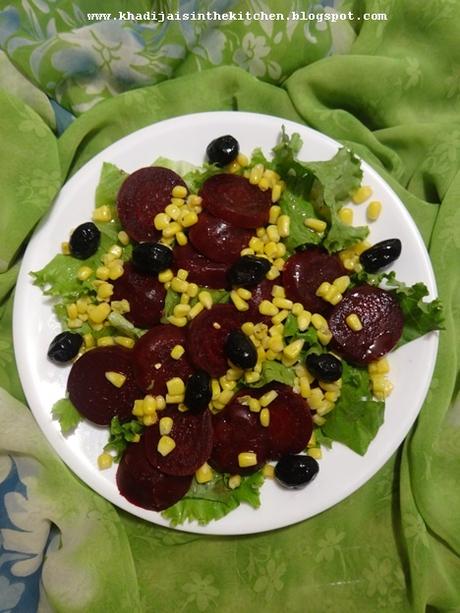 ****************
Hope you'll enjoy!!
****************
Merci de votre visite / Thank you for your visit /Gracias por su visita/
شكرا على زيارتكم
Pour d'autres idées de cuisine / For other cooking ideas / Para otras ideas de cocina /
من اجل افكار اخرى للطبخ
:
Facebook
,
Instagram
,
Pinterest