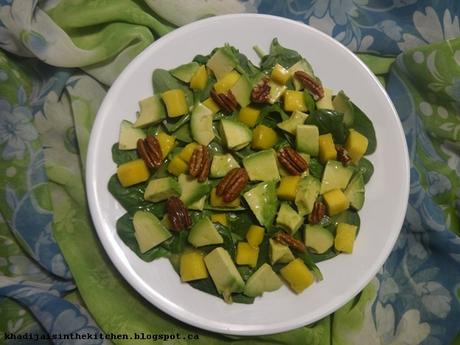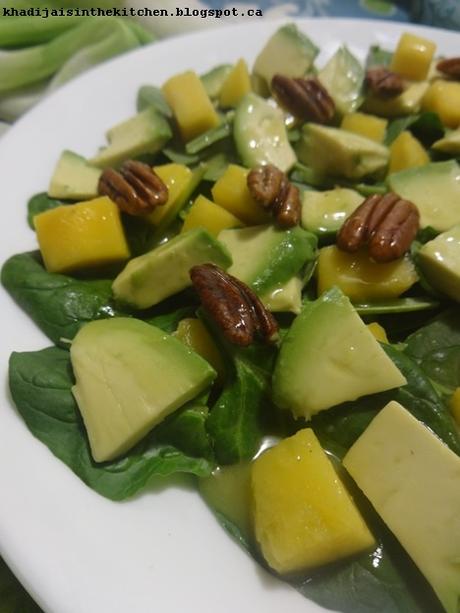 RECETTE / RECIPE / RECETA / الوصفة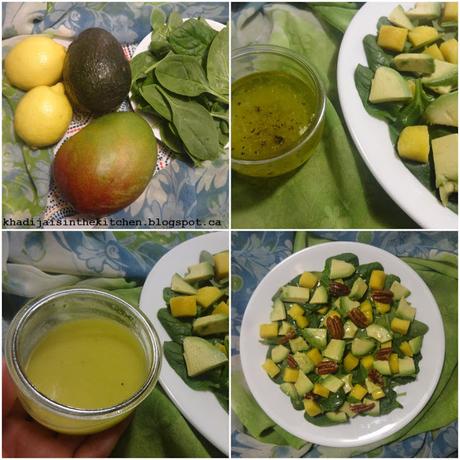 SALADE À LA MANGUE, À L'AVOCAT ET AUX ÉPINARDS
INGRÉDIENTS :
1 mangue (environ 80 g)
½ avocat (environ 100 g)
Une poignée d'épinards (environ 40 g)
20 g de pacanes
  Vinaigrette :
  2 cuillères à soupe de jus de citron
  3 cuillères à soupe d'huile d'olive
  ¼ cuillère à café de zeste de citron
  ½ cuillère à café de miel
  Une pincée de sel
  Un peu de poivre
MÉTHODE DE PRÉPARATION:
1. Disposer les feuilles d'épinards dans une plat de présentation.
2. Couper l'avocat et la mangue en cubes et les ajouter aux épinards.
3. Dans un bocal, agiter vigoureusement les ingrédients de la vinaigrette et les verser sur la salade.
4. Enfin, ajouter les noix de pacanes et servir immédiatement.
*******************************************
MANGO, AVOCADO, SPINACH SALAD

INGREDIENTS:
1 mango (about 80 g)
½ avocado (about 100 g)
A handful of spinach (about 40 g)
20 g pecans
  Dressing:
  2 Tbsps. lemon juice
  3 Tbsps. olive oil
  ¼ tsp lemon zest
  ½ tsp honey
  Pinch of salt
  A little pepper
HOW TO:
1. Spread the spinach on a serving dish.
2. Cut the avocado and mango into cubes and add them to the spinach.
3. In a jar, shake vigorously the dressing's ingredients and pour over the salad.
4. Finally, add the pecans and serve immediately.

*******************************************
ENSALADA DE MANGO, AVOCADO Y ESPINACA

INGREDIENTES:
1 mango (alrededor de 80 g)
½ aguacate (unos 100 g)
Un manojo de espinacas (alrededor de 40 g)
20 g de pacanas
  Aderezo:
  2 cucharadas jugo de limón
  3 cucharadas de aceite de oliva
  ¼ cucharadita de cáscara de limón
  ½ cucharadita de miel
  Pizca de sal
  Un poco de pimienta
ELABORACIÓN:
1. Extender las hojas de espinacas en un plato de servir.
2. Cortar el aguacate y el mango en cubos y agregarlos a las espinacas.
3. En un frasco, agitar vigorosamente los ingredientes del aderezo y verter sobre la ensalada.
4. Finalmente, agregar las pacanas y servir inmediatamente.
*******************************************
سلطة الافوكادو و المانجو و السبانخ
المكونات:
حبة مانجو (حوالي 80 غرام)
نصف حبة أفوكادو (حوالي 100 غرام)
حفنة من السبانخ (حوالي 40 غرام) 
20 غرام جوز البقان
  صلصة السلطة:
  ملعقتان كبيرتان عصير ليمون (حامض)
  ثلاث ملاعق كبيرة زيت زيتون
  ¼ ملعقة صغيرة قشرة ليمون محكوكة
  ½ ملعقة صغيرة عسل
  قليل من الملح
  قليل من الفلفل 
طريقة التحضير:
1. توضع

اوراق 

السبانخ في طبق التقديم.
2. يقطع الأفوكادو والمانجو إلى مكعبات وتضاف إلى السبانخ.
3. في مرطبان ، تخلط مكونات الصلصة جيدا وتسكب فوق السلطة.
4. أخيرا ، تضاف حبات

جوز 

البقان و تقدم السلطة فورا.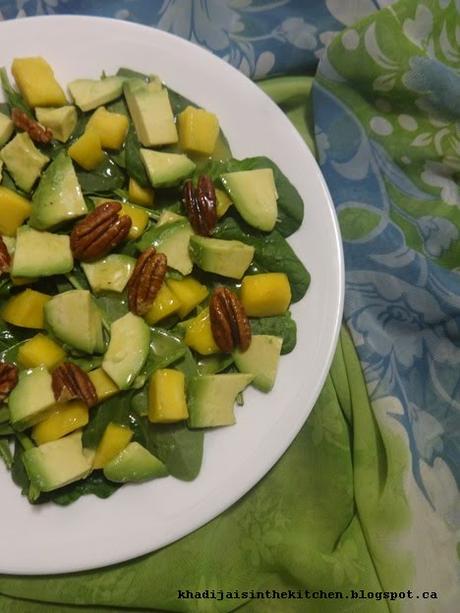 *******************
Hope you'll enjoy!!
********************
Pour d'autres idées de cuisine / For other cooking ideas / Para otrasideas de cocina /
من اجل افكار اخرى للطبخ
:
Facebook
,
Instagram
,
Pinterest
Merci de votre visite / Thank you for your visit / Gracias por su visita /

شكرا على زيارتكم