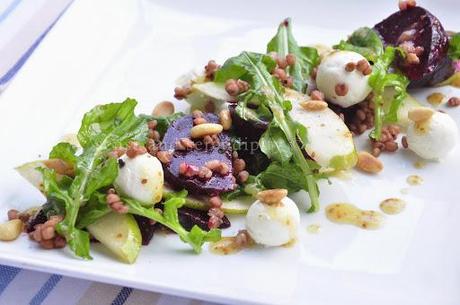 I am tempted to eat the last container of Greek yogurt in the chiller but I have to bring it to Cebu in good condition along with the buttermilk and some fresh cheese. How could I resist a yogurt that is so thick and creamy? I was also enticed to use it to make labneh but decided to use regular yogurt instead. Labneh, is simply yogurt which has been strained through a cheesecloth to remove the whey. This Arab yogurt cheese is popular in Middle Eastern cuisine. It is a great alternative to cream cheese with a slight tangy taste. After the straining the yogurt overnight, you will have a very thick (the longer it drains the thicker it will be) and almost dry consistency. You can shape them into balls and preserve them olive oil with some aromatics or you can coat them in chopped nuts, seeds or spices and use as part of a mezze.
Beets are one of those underestimated vegetables because for many people, they could sense the earthy aftertaste in between the sweetness of the beets. Just like dirt but in a good way. But really, they are that good. I bought a few organic smooth skinned beets at Salcedo Market and they are firm and plump. They are not sold by the bunch so the beets greens are not attached to it anymore. I love roasting beets to intensify their sweetness and robust flavor. But they are not roasted per se; they are actually steaming inside the foil while "roasting" in the oven. When I tasted the cooked beets, I was expecting that they would they the same way I had them before (even with the same size). But they tasted slightly different. It didn't have that earthy hint that most people would complain about. Instead, they have a sweet, vibrant flavor that explodes inside your mouth (it's the same feeling when eating the ripest and sweetest mango). I miss those beets that come in different colors and patterns when you slice it open. The appealing kaleidoscope of these root vegetables are a feast to the senses that we usually take for granted in other fresh produce. But for now, I would appreciate the strikingly crimson red beets that I paired with other ingredients - sweet and crunchy fragrant pears, some yogurt cheese called labneh, spicy arugula, creamy pine nuts and nutty Indian Millet.

I bought the Indian Millet in a Korean store but nobody could answer what to do with them in Korean cooking. So, I just cooked the millet the way I used to cook pseudo-grains. This type of millet adds a bit of texture and more nutrition to the salad. Millet is best cooked with other ingredients. This is not a standalone grain like rice that can be eaten on its own or with just steamed vegetables or pan fried fish. It really needs something more than that. But millet is topnotch in nutrition because these soothing and easy to digest grain are packed with vitamins and minerals. If you know how to cook rice, you definitely know how to cook grains but if you really want to expand your repertoire in cooking grains, Rouxbe Online Cooking School has great instructional videos.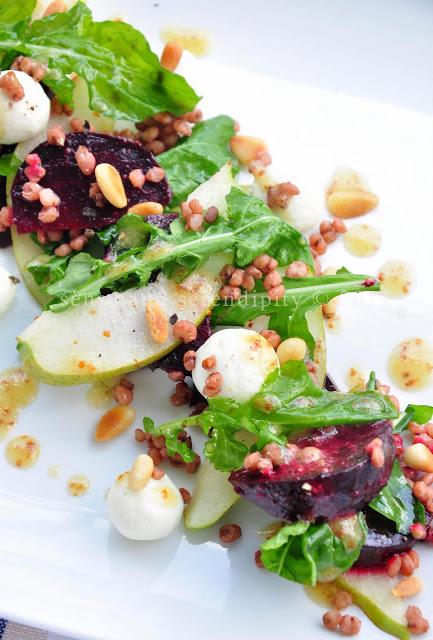 If I want to serve this as a light lunch or dinner, I just add more millet but this may not be approved by the Filipino palate. However, this dish is I what need whenever I require something light yet nourishing.
Roasted Beets and Fragrant Pear Salad
with Arugula, Labneh and Indian Millet
6 tbsp extra virgin olive oil
Freshly ground black pepper
300 g medium beets (about 5 pcs)
To prepare the labneh, line a sieve/strainer with fine muslin or cheesecloth over a deep bowl. You don't want the strainer touching the whey as it drips on the bowl. Place the yogurt on the sieve and cover. Place it inside the chiller and allow to drain overnight, about 12-16 hours. Sometimes even days. After straining the mixture, transfer the yogurt cheese into a bowl, season with salt to taste and add the oil to make a smooth consistency. Form into ½ inch balls. Place on a plate, cover and chill until ready to use.
Preheat you oven to 200⁰Celcius (or 400⁰ Fahrenheit).
To make the dressing, combine the grainy mustard, sherry vinegar and honey. Whisk in the oils and season with salt and pepper. Set aside.
To roast the beets, wash and scrub the beets very well to remove the dirt. Pat them dry with a paper towel. Place the beets onto a sheet of foil, add oil and salt. Roast for approximately 40-45 minutes, or until cooked through. Remove from the oven and allow to cool. When the beets are cool enough to handle, peel using a paring knife. Then, cut the beets into ½ inch wedge.
To cook the Indian millet, toast the millet in a dry pot over low-medium heat until slightly brown and fragrant. Slowly add the water and the salt. Bring to a simmer. Cover and cook for 15 to 20 minutes. If the millet is still slightly crunchy, add a bit more water. The millet should be chewy.
To prepare the rest of the mise en place, toast the pine nuts on a pan over low-medium heat, shaking the pan occasionally to prevent it from burning. Then, transfer to a plate to cool. Wash and spin the arugula dry, and then cut the pears, cores removed, into ¼ inch slices.
To assemble the salad into layers, arrange the roasted beets, arugula, sliced pears onto a plate. Add a bit of the pine nuts and the Indian millet. Then, drizzle the dressing all over the ingredients. Repeat the assembly for another layer of roasted beets, arugula, sliced pears, pine nuts, Indian millet and the dressing. Top with 4 or 5 pcs of the labneh balls, depending on the size. (Reserve the leftover labneh for other use). Then, drizzle with a bit more dressing.
The labneh, roasted beets, millet and the dressing can be made one day ahead.
The measurements for the dressing are generally approximates.
Choose beets that are relatively small in size as bigger ones have a bitter and woody taste.