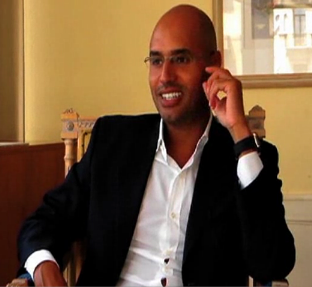 Saif al-Islam Gaddafi: Arrested
Saif al-Islam Gaddafi has been captured in Libya. The son of deposed Libyan dictator Muammar Gaddafi was detained while attempting to escape across the border to Niger and is being held in the small town of Zintan. Although the news was greeted with celebrations in Libya, the arrest of the deceased dictator's son brings a host of new problems – namely, what should the Libyans do with him?
Fair trial. According to a Times editorial, the death of Muammar Gaddafi during his capture by rebel forces makes it essential that his son receives a fair trial. The editorial argued that the best way to achieve this would be through the involvement of the International Criminal Court (ICC), which issued a warrant for Saif al-Islam's arrest back in June: "Justice demands speed and due process, though Libya does not yet have a stable popular government and institutions that exercise authority under the rule of law."
International or local justice? Writing for The Guardian's Comment is Free, Philippe Sands pointed out that the Libyan authorities are legally bound to involve the ICC because of the arrest warrant issued by The Hague, but that "international justice may not offer the swift justice some will want". Sands suggested that an ICC trial that took place in Libya may be an acceptable compromise: "It might go some way to satisfy understandable demands in Libya for a local trial, subject to international oversight and justice dispensed by international judges," he wrote.
"The ICC is just a secondary court, and the people of Libya will not allow Saif al-Islam to be tried outside," said Mahmoud Shammam, information minister of the National Transitional Council, according to The Telegraph.
Not wanted. However, Richard Spencer reported in The Telegraph that the Libyan National Transitional Council (NTC) has said it would not hand Saif al-Islam over to the ICC . That's assuming the NTC manage to get hold of Gaddafi's son: Spencer also reported that local authorities in Zintan are insisting they will keep hold of their prisoner and stage their own trial, which, he said, demonstrates the "weak hold" the NTC has on Libya.
"The trial must be here," said Zintan council leader Omran Eturki, reported The Guardian.
Not suitable. Writing in The Guardian, Chris Stephen pointed out that the small town is not suitable for a large-scale war crimes trial: "The town has no hotel and only a handful of offices… Phone lines work but email is slow." Stephen argued that the NTC needs to convince ordinary Libyans and militia leaders that it is "truly a government of all Libyans" in order to persuade Zintan to hand over Saif al-Islam.
Blair to testify? UK Prime Minister David Cameron has called for Saif- al-Islam to receive a fair trial to international standards of justice. But writing in The Daily Mail, Peter McKay suggested a high-profile international trial may not be in the UK's best interests given the Gaddafi family's ties with figures such as former PM Tony Blair and Prince Andrew: "None of what Saif might say necessarily reflects well on our politicians — Labour, Tory and Liberal Democrat. Nor on the Americans, our Secret Intelligence Service, the Royal Family, Big Oil and the banking sector. "