Space in apartments and small houses can be an issue so if you have a couple of kids you might want to consider buying the safest bunk beds for toddlers.
Safe bunk beds for kids are a great way to save space and accommodate more children and visitors not to mention they make the room look elegant. If your children are over 5 years of age, bunk beds will also be a great fun time for them.
Reviews For The Best Toddler Bunk Beds In Market.
Disc-O-Bed Youth Kid-O-Bunk with Organizers.
There are a lot of features that makes this Disc-O-Bed Youth Kid-O-Bunk the best bunk bed for toddlers ever but none of them beats the fact that it can be used as a bunk bed, bench or two separate cots.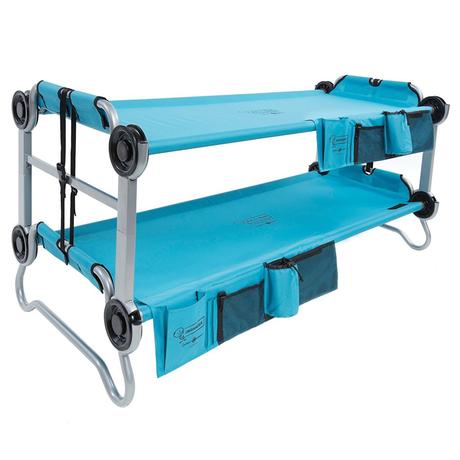 This beautiful bunk bed for toddler is great for kid's outdoor sleepovers such as camping because it's easily portable and easy to assemble without using any tools.
You will also notice that the Disc-O-Bed does not require a mattress and it will still provide stable, comfortable and rock solid foundation to sleep on.
Whether you are in a tiled house or uneven outdoors, this bed will adjust thanks to the rounded end frame so even your floor will not be damaged.
The bunk has a weight capacity of 200 pounds and it disassembles to fit two convenient bags for transportation. This bed also comes with 2 side organizers to store your small items for safe keeping.
Drawbacks:
Coaster Home Furnishings 460078 Bunk Bed.
Coaster Home Furnishings are known for making some of the safest bunk beds for toddlers and this 460078 Bunk Bed is no exception. It is a full over full bunk bed made of heavy duty steel frame so it can hold two to four adults or kids comfortably.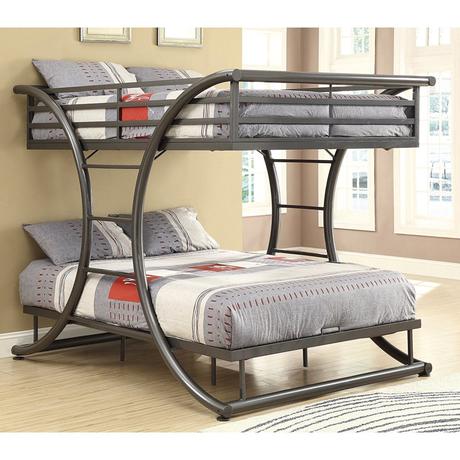 What stands out about this Coaster Bunk Bed is the metal curve design that not only adds elegance and style to the room but also softens and holds the sturdy support of the bed.
There are two very safe ladders on both sides; safe guardrails and the curved feet of the bed ensure your floor will not be scratched.
This bed provides a modern contemporary look to your bedroom thanks to the design and gunmetal color so it's not just a bed.
Drawbacks:
Putting this bed together is quite hard as the holes are not symmetrical.
Storkcraft Caribou Solid Hardwood Twin Bunk Bed.
Every once in a while, high quality bunk beds made of wood come into the market and one of those has been the Storkcraft Caribou Solid Hardwood Twin Bunk Bed. It is made of environmental friendly rubber wood and features high quality fastening systems so you know your children are safe.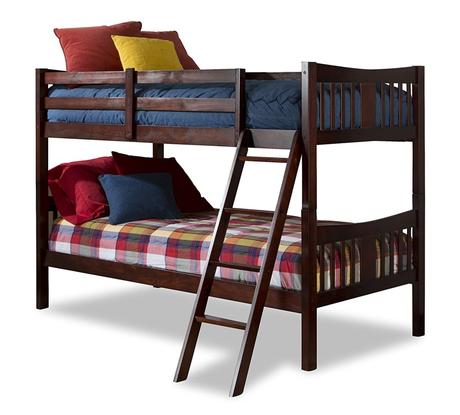 Storkcraft toddler Bunk Bed offers comfort to the users thanks to the sturdy frame and ample space between the bunks. The twin bunks can be separated into two separate beds and they are able to accommodate two toddlers each.
This bed comes with a sturdy four step ladder and full-length guardrails for safety.it is available in multiple non-toxic finishes that will blend with your home décor to provide a classy and elegant look.
Drawbacks:
The bed is poorly constructed so it's prone to cracking.
DHP Twin Over Twin, Metal Bunk Bed is one of the most affordable metal bunk beds for kids that has a beautiful and sleek silver metal finish.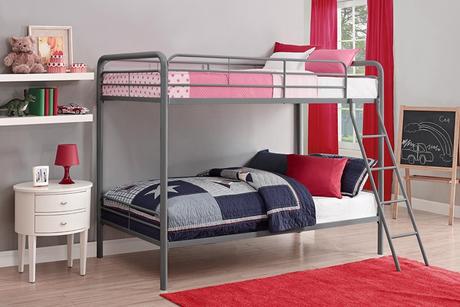 This bunk bed for toddler accommodates two twin mattresses and can handle 200 pounds on top and 225 pound for bottom bunk.
DHP Twin Over Twin Bed is a very safe bed as the ladder is sturdy and slanted to make climbing easier. The bunk is very easy to assemble and the top bunk features full length guard rails to protect your kid from falling.
However, what you will love about these bunk beds for toddlers is that they occupy very little space in the room and the frame does not loosen over time.
If you have twins, overactive boys or just regular guests, this bed will provide great service for you many years to come.
Drawbacks:
The bars on the ladder are uncomfortable on your feet while climbing.
Dorel Home Products Twin-Over-Full Bunk Bed.
This is another affordable toddler bunk bed from Dorel Home Products made of metal and features a sleek black metal finish. The bed is designed to maximize space even in the smallest of rooms and it fits a standard twin mattress on top and a full size mattress on the lower bunk.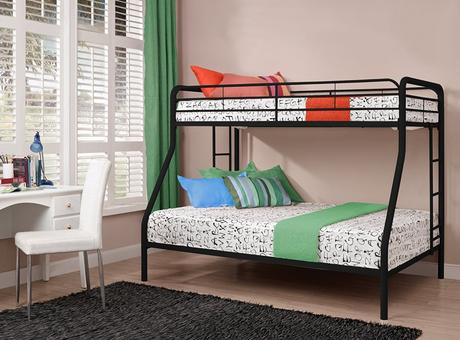 Dorel Home Bunk Bed features two ladders attached to both ends of the bed for safety and the top bunk has full length guardrails. This bed is extremely easy to assemble because the instructions are simple and the black metal frame will last through years of rough play and sleeping.
If you have children of different ages, the bigger one will love the lower bunk as it is more spacious and can even fit two people.
Drawbacks:
There are too many parts so disassembling will be hectic.
While DHP has been known to make extremely safe toddler bunk beds, this DHP Screen Over Futon Metal Bunk Bed is a masterpiece. On top of having a clean and contemporary design, you can also fit a futon mattress on the lower bunk to make it a couch.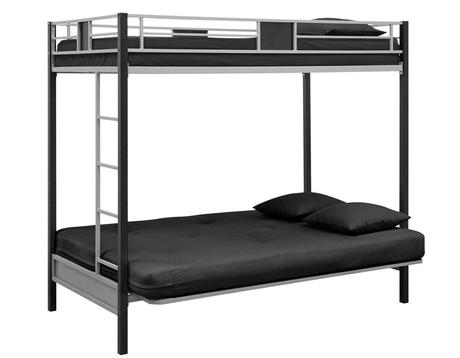 This bed is able to accommodate 200 pounds on the lower bunk but it occupies very little space in your room. If you want a bed that is versatile and looks extremely elegant, the DHP Screen Over Futon is one of the most affordable toddler safe bunk beds.
The bed is easy to assemble and features an attached ladder and guardrails for safety reasons. Since the frame is made of metal, you are assured of long lasting service no matter how rough or playful your kids are.
Drawbacks
The bed is too tall and leaves little space between the top bunk and ceiling.
If you though DPH could not do any better when it comes to making the safest bunk beds for toddlers, you are in for a shock because this DPH Sturdy Kids Sturdy twin over full bunk bed is out of this world.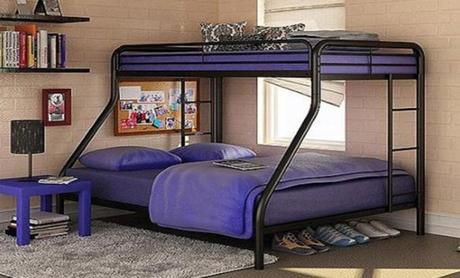 This bed is not just a plain bunk because the design is stylish and elegant leaving your room looking the same.
The bed features a very sturdy metallic frame and high quality construction so it is very durable. The top bunk has a weight capacity of 200 pounds while the bottom bunk is able to handle up to 450 pounds or two people.
The attached ladder is locked in so it will not move while you are climbing and the guardrails on the top bunk provide optimum safety for your child. There is ample room between the bunks and enough room under t bottom bunk to store some shoes and other items.
Drawbacks:
It takes a while to put this bed together.
Buying Guide For The Best Safest Bunk Beds For Toddlers And Baby.
There are many cool bunk beds for toddlers in the market today to choose from, some coming from very reputable companies like DHP, stork craft and Coaster Home Furnishings.
However, since you want your kids to be safe even when they jump and play on the beds, here is what you should look for to get the safest bunk beds for toddlers and baby;
Safety Features:
The best bunk beds for kids usually have several safety features for the kids such a full length guardrails, locked in ladder or stairs.
The best kids beds ever should have high quality fastening system so that it will not jot wobble or shake while the child is trying to climb up and you must ensure everything is tightened together.
Frame Material:
While wooden bunk beds for small children are extremely elegant to look at, wood is prone to cracking and chipping which can be dangerous to your kids.
The best bunks beds in the world should be made of heavy metal and finished with a non-toxic paint for safety and durability.
Space:
Good toddler and baby bunk beds should occupy little space in the room so there will be enough air and space for other things. It's also crucial that there is enough room between the bunks and between the top bunk and ceiling.
However, the safest bunk beds for toddlers should not be too tall as this will scare younger kids and discourage them from using the top bunk.
Extra Features:
While safety is very important in low bunk beds for toddlers, the best bunk beds for small rooms should also have extra features to make life easier. Such features include stairs instead of ladder, drawers, trundle and even pockets to store your items.
Small bunk beds for toddlers must be easy to put together and dismantle if need be so they must have clear instructions and high quality fastening system.
Conclusion
While the safest bunk beds for toddlers may be made of high quality material, parents should teach their children not to jump on top of the bed as this can be very dangerous. Proper use of the bunk beds will ensure they last long and still look good.