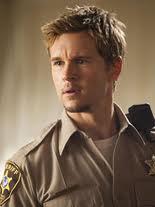 For fans of HBO's True Blood, Ryan Kwanten is known as the lovable but less than intelligent, Jason Stackhouse, brother to the much loved waitress, Sookie. But Kwanten is very versatile when it comes to acting roles. While he is happy with the part of Jason, during the off-season of True Blood, he prefers to play roles that are distinctly different to Stackhouse. Take his role in Griff the Invisible (available now on DVD and Blu-Ray):
"I love working on 'True Blood' don't get me wrong, but when I'm not shooting it, I try to get as far away from Jason and that world as I can. 'Griff the Invisible' was a challenge for me but also it was nice to experience something new. I think that everyone has this dreamer inside of them and whether they choose to embrace or suppress, I feel like it's in there."
And how does he think Jason fared in the recent season of True Blood? Well, he seems to think that with all of Jason's bad luck this season, the only way he has to go is up. Which is something we all like to hear!
In true actor-style, when asked by ExtraTV about which superpower he would like to have, he replied:
"I really like the power of imagination. For me, a great superpower would be to somehow convey whatever imagination I could conjure up in my small, little head that could then transpire into real life."
It may be this very dedication and belief in this love of acting that just may get him to the top of
People's "Sexiest Man Alive 2011"
 list. Especially with his new movie coming up, a supernatural thriller that is set in an airplane and entitled
7500
. Things are looking up for Jason and Ryan next year, that's for sure!
Sources: ExtraTV – Ryan Kwanten: From Sex Symbol to Nerd
People Magazine – Sexiest Man Alive: Who Could Be Next?
(Photo Credit: HBO, Inc.)