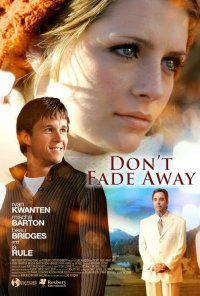 Ryan Kwanten's film "Don't Fade Away" premiered at the Cannes Film Festival in 2009 and the DVD was released in Australia in 2010.  We reported on it at that time, but it hasn't yet appeared here in the US.  
Now, the film will be screened at "FLIFF," the Fort Lauderdale International Film Festival, which starts rolling Oct. 21 and, according to IMDB, it is also scheduled for a US release sometime in 2011, .
Beau Bridges, who is also in the film and plays the father of Ryan's character, will be at the event on Oct. 23 for a Cinema Paradiso screening of the film, which stars, in addition to Ryan, Mischa Barton and rapper Ja Rule.  Bridges will receive  a Lifetime Achievement Award.  We have no word about whether Ryan will attend.
Film synopsis:
Jaskson White (Ryan Kwanten), who's life so far has been easy, with looks, brains, and athletic ability, the world's possibilities seemed limitless. But, when he came to Los Angeles to pursue a career in the music industry, he was seduced by money and status slowly losing track of who he was. Now, with both his personal and professional lives on the edge of ruin, he's been called home to care for his dying father. While in North Carolina, he'll confront the friends he lost track of and the girl he never met.
Below is the trailer for the film:
source: sun-sentinel.com