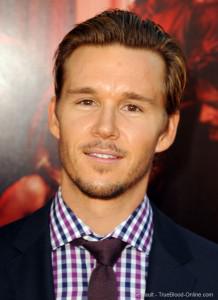 Ryan Kwanten is interviewed by HollywoodLife.com and he told them that his character of Jason's will be in a relationship with Crystal and that Jason will be "very much at death's door" in Season 4. And even worse than Jason's possible death, fans will also be sad to hear that he'll be taking "a little break" from all the shirtless action they're used to.
Fans of Charlaine Harris' novels are fully aware that [SPOILER ALERT] Jason gets kidnapped andturned into a were-panther — and while Ryan wisely avoids confirming that big secret, he does confirm that Jason "quickly finds himself in a position he may not be able to get out of."
So Jason's the mayor of Hot Shot now. … How's that going?
He's someone that really shouldn't be put in a position of authority or power, and I think strange things happen when someone like Jason is put in that that position. He can choose to either man up or back off from it. It's a real test for Jason to turn himself from a boy into a man. It's a good season for him. He started so low on the evolutionary scale that he can only go up anyway.
From the teasers we've seen, he also looks like he's going to be in some trouble.
He gets very close to death, if not very much at death's door. Nothing is what it seems on True Blood, and we very much continue that philosophy this season.
Jason's such a lovable character. What do you love about him?
It's an invigorating character to play, because I'm really nothing like him. There's a sense of liberation when I put on those tight jeans and Western shirts. I can't help but be swept up in his world, and it's really the epitome of playing a character.
Read the rest of this interview at Hollywoodlife.com