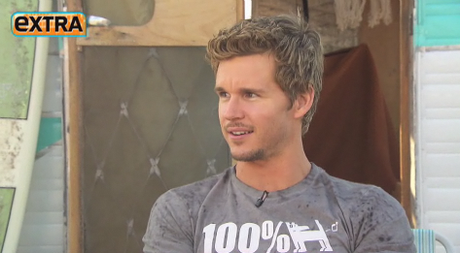 Ryan Kwanten (Jason Stackhouse) will be making an appearance on Fox's sitcom New Girl next month. The news of his appearance broke back in early December and last month Michael Ausiello revealed some details about his role at the end last month. Now however, thanks to TV Guide's William Keck we not only have even more information about Ryan's role on New Girl but also some tidbits about True Blood Season 5!
Kwanten told Keck that he actually meets Zooey Deschanel's character Jess when she chokes on a cherry:
"I save her from choking on a cherry," teases Ryan, who says Zooey welcomed him on set with open arms. "But he loves talking about food and turns out to be one of the most boring guys she's ever dated."
As for his own history with Valentine's Day, Ryan says that he's been single for so long that February 14th is just another day for him. His True Blood counterpart may disagree. The actor revealed he's shooting season 5 already and still working things out with Jessica (Deborah Ann Woll):
"I'm already back shooting," he says. "Jason is definitely treading into uncharted territories with Jessica. For once, his one-track mind is focused on love."
Aww! It sounds like we have good things to look forward to in the new season! What are you looking forward to in season 5?
Source: TV Guide.com- "Keck's Exclusives: New Girl's New Valentine."
Image Credit: Extra/Warner Bros TV