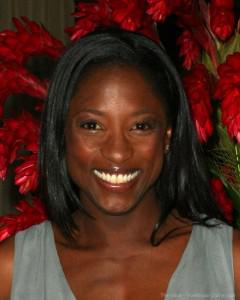 True Blood's Rutina Wesley showed us how her character could survive anything when she managed to escape her vampire captor, Franklin Mott after he had kept her prisoner for most of Season 3.  Now, Rutina will get to use those same skills that she showed us while portraying Tara, when she stars in a true story of survival, in the film titled, Left To Tell.
Left to Tell is a biopic about Immaculee Ilibagiza and is based on her betselling memoir.
The project that is currently in development with the script in rewrite, is about the incredible true story of survival, faith, and ultimately forgiveness. Twenty two year old Immaculee Ilibagiza's  life was dramatically transformed when she managed to survive the Rwandan genocide by hiding with seven other starving women in a tiny bathroom for 91 terrifying days. Entering the bathroom a vibrant, 115-pound university student with a loving family, she came out of that room weighing 65 pounds, and soon learned that most of her family had been brutally murdered.
The film is being produced by Stephen McEveety and will be co-directed by Steve Berkowitz & Keith VanderLaan. In addition to True Blood, Rutina most recently starred in How She Move, which was acquired during Sundance, and the indie California Winter.
source: deadline.com