Rutina Wesley can finally talk about Tara's fate. She tells her story to TVline.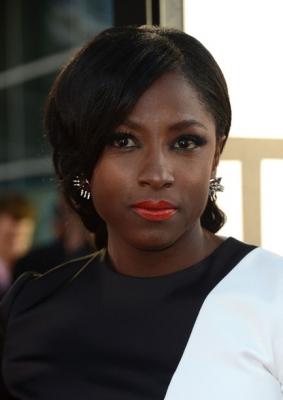 TVLINE | How long have you known?
I've known since last season. Three quarters of the way through last season I found out.
TVLINE | What was your reaction?
I was initially terrified because I was being shot in the head. [Laughs] I was like, "Where is that going to lead?" But I was also excited because I was going to be able to create a whole new Tara in a way, and explore a whole new physicality.
TVLINE | Was there a part of you that was like, "Damn, now I have to wear those uncomfortable fangs!"
Yes. There was a point when Stephen [Moyer] came up to me in the makeup trailer and said, "Still enjoying being a vampire?" [Laughs] It is difficult. It's a whole new routine you have to get used to. But it's been so much fun.
TVLINE | What was it like the first time you saw yourself with the fangs in?
I took a bunch of goofy pictures in my trailer. I was looking at myself and like, "Oh my God!" It was very weird getting used to seeing my face with fangs popping out. The thing that's hard is talking with them. We have this thing that if you can say Sookie Stackhouse then you're good.
TVLINE | Can you say Sookie Stackhouse?
Yes. [Laughs] I can say it without slurring my S's.
TVLINE | Last season Tara mellowed out a little bit, but this season — at least in the first four episodes — she's angrier and more pissed off than ever!
It's fun being feral, as they call it. [Laughs] She's only been a vampire for a minute, and what transpires when she comes out of the grave is the most chaotic crazy thing; she doesn't know what to do. And the most important thing is the relationship between her and Sookie and her and Lafayette and how all of that plays out.
TVLINE | Can she forgive them for turning her into the very thing she hates the most?
I don't know. Only time will tell. I can say that the relationships will never be the same. It's definitely a game-changer on many levels.
TVLINE | The best thing to come out of this, at least in my opinion, is that it bonded Tara with Pam for life. Talk about a dysfunctional relationship.
I think Kristin Bauer is a goddess. She's been so much fun to work with, and so sweet to me. She's been giving me [vampire] pointers. She's the one person who I hadn't worked with, so it's been amazing to get the chance to work with her. Their relationship is going to be fun because they both say what they want. They're both like, "Whatever." It's going to be interesting to see how that relationship grows — if it does grow.
TVLINE | What does this mean for Tara romantically?
I don't know if she's even thinking about romance right now. [Laughs] Love is the furthest thing from her mind.
TVLINE | Is she still into women? 
She likes who she likes. And now that she's a vampire, well, vampires like everybody — which I love. [Laughs] They love who they love. They're like, "You look good to me right now. You're B-negative? Cool. Get over here." [Laughs]
In an interview with Vulture Rutina answers some more questions about season 5 and Tara.
There were a lot of fans who were frustrated by seeing Tara repeatedly victimized. Did you feel that way?
It's always been a challenge, but I've loved everything they've written for me. Meaty, dramatic, tumultuous. Tara's always had a lot going on, and that gives me so much to play. It was difficult sometimes playing someone who's always so heavy and then going home and trying to shake it off. But I kind of love it. I've never doubted the situations they've put Tara in. Hers will be an interesting journey this season. She's become the thing she hates and fears the most.
She didn't look too happy about it in last night's episode.
She's pissed. [Laughs.] To me, it's funny because I had a ball shooting this stuff where I get to go crazy and tear things up. I have vampire speed now. I remember they wanted me to take off and go really fast so I did, but then they took it back. "Rutina, Rutina, you don't need to run so fast! Or maybe you don't need the vamp-speed [effect] because you're a track star." Things are going to be very chaotic at first. Tara's going to make a mess. Obviously, her relationships with Sookie and Lafayette are going to be difficult at best. She holds them very much responsible.
Pam [Kristin Bauer van Straten] is Tara's maker, which basically makes her Tara's mom. Would you say she is more Mama Rose or Mommie Dearest?
It's really going to be both because Tara will be defiant for a while, but once she starts to adapt, she and Pam could have some fun. Pam and Tara actually have a lot in common. They both speak their minds and, now, they're not afraid of anybody. Kristin Bauer is so funny. Half the time I'm working with her I'm just trying to keep a straight face. I should say Pam is always going to be Pam, though. There's always going to be some of, "Ugh, you're my thing now."
It was pretty great seeing her in the Wal-Mart sweats.
Yes! Kristin thought it was so great. It was perfect with the gartered ankles — a little too short, a little too tight, all yellow.
And then you both were buried alive.
That freaked me out. "Wait, we're doing what? You're going to throw dirt on my face and bury me?" It turned out to be a beautiful shot. That's how you get it, you do it for real. What was hard was not moving because I'm supposed to be dead while they're dropping dirt on you. But now I can say I've been buried alive and put it on my résumé.
Did you get any pointers from the vampires in the cast on how to bite properly or melt the right way?
Oh yeah, I needed the Vampire Book for Dummies. I kept asking for the guys. I don't know how to put these teeth in. Everyone helped, but I've also created my own vampire. I've got my own bite, my own way of moving. I've come up with a couple of animals, too, to help me be a more feral vampire. I think Tara's very feral.
What kind of animals?
Like a wild, angry possum. That's what I'm doing right there.
A wild, angry possum, but with the Tara swagger.
[Laughs.] Yes. Tara figures it out. I can throw someone across the room just because I want to? It's on.