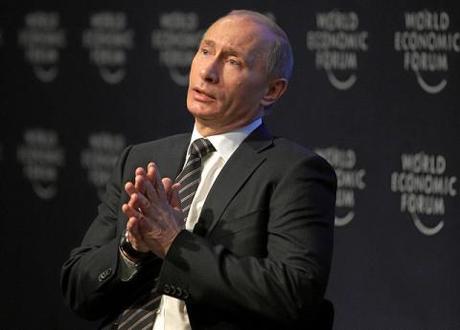 Putin: The puppetmaster? Photo credit: World Economic Forum, http://flic.kr/p/6jegY6
Russia's third richest man has declared he will challenge prime minister Vladimir Putin for the presidency in 2012. Mikhail Prokhorov, who owns US basketball team New Jersey Nets, made his announcement after a weekend of mass protests across Russia against apparent election fraud by Putin's United Russia party.
Putin, who held the Russian presidency from 2000 to 2008, looked set for a straightforward return to the office. But amid growing anger in Russia at political corruption, can Prokhorov mount a serious challenge to the PM? Most commentators are sceptical: they believe the 46-year-old oligarch is in fact merely dancing to Putin's tune.
Kremlin stooge. "It is more than possible that Prokhorov has decided to run because Putin has asked him to", wrote Stefan Wagstyl on The Financial Times' beyondbrics blog. According to Wagstyl, Prokhorov must know he would be highly unlikely to win over voters, as billionaires are not exactly popular with the Russian people – which implies he has another motive to run against Putin. "In the presidential election, he could win some votes from the urban middle-classes disgruntled with Putin's rule, but not enough to threaten the boss. He would channel discontent and create the illusion of a genuine contest", said Wagstyl.
"I'm totally against revolution. All revolutions in Russia have been bloody. I'm for evolution", Mikhail Prokhorov told a press conference as he announced his bid for the Russian presidency, reported The Wall Street Journal.
Personal gain. Anna Nemtsova reported for The Daily Beast that some Russian opposition figures believe Prokhorov's presidential bid is all about sucking liberal support away from the recent protests: "The crucial difference between Prokhorov and us, the independent opposition, is that we want to relieve Russia from Putin's regime. Prokhorov wants to improve his career", said Boris Nemtsov, a former friend of the oligarch.
More bad news for Putin: a United Russia rally aimed at demonstrating support for the party mustered only "sparse" attendance, according to The New York Times. By contrast, an estimated 40,000 joined protests in Moscow against the Kremlin.
Putin wins either way. Writing on The Guardian's Comment is Free, David Hearst attempted to untangle Prokhorov's political past, pointing out that although the oligarch claims to bear a genuine grudge against the Kremlin, there is a possibility that he's just part of an "elaborately choreographed political ballet to create the illusion of a genuine opposition." However, Hearst argued that whether or not Prokhorov's presidential bid is genuine, Putin will still win the election.
"Genuinely charming, over two metres tall, and with excellent English, he communicates easily with both Russians and non-Russians", is how the BBC's Daniel Sandford described Russian presidential hopeful Prokhorov.
Sanctioned by Putin. There is no doubt that Prokhorov's presidential bid is sanctioned by the Kremlin, argued Ian Bremmer on a Reuters blog, pointing out that the billionaire owes his fortune to Putin. According to Bremmer, Putin's return to the presidency is inevitable, but the bid from Prokhorov and also that from former finance minister Alexei Kudrin suggest change may come gradually in the future: "The reemergence of Prokhorov and Kudrin in the political arena may just indicate that the Kremlin is toying with an idea of reform."
Who else could challenge Putin? The Russian opposition parties leading the protests don't have the support or organisation to mount a serious challenge to the Russian PM, wrote Kathryn Stoner-Weiss on a New York Times blog, pointing out that they "have been shut out of the electoral process for a decade."