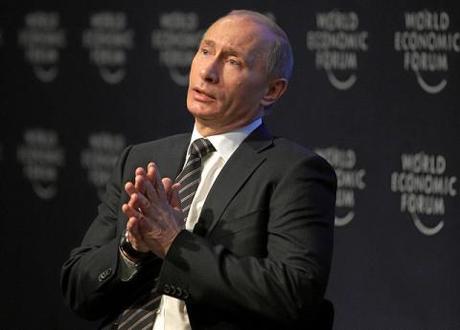 Putin: Peacemaker of the Year. Photo credit: World Economic Forum, http://flic.kr/p/6jegY6
Tiger-shooting, whale-tagging, plane-flying Russian prime minister Vladimir Putin can now add "international peacemaker of the year" to his list of achievements. The world media has reacted with bafflement to the news that the former KGB officer is due to be named "peacemaker of the year" by the China International Peace Research Centre.
Raising eyebrows. Putin has won the Confucius Peace Prize for his objections to the NATO bombing campaign in Libya and for cracking down on rebels in Chechnya. As Edward Wong pointed out in The New York Times: "The campaign in Chechnya led to a stream of human rights abuses by Russian and pro-Russian Chechen security forces, including rape, torture and murder." Writing in The Independent, Christopher Bodeen's bemusement stemmed from Putin's domestic record:  "The centre's justification for awarding its peace prize to the Russian prime minister seems slightly dubious given his reputation for jailing political rivals and cracking down on government critics," he said. Jonathan Watts suggested in The Guardian that even Putin would be surprised that he had scooped the Chinese equivalent of the Nobel Prize "after two wars in Chechnya, one conflict in South Ossetia and two of the deadliest hostage relief operations in modern history".
Award banned. But it seems no one is more surprised than the Chinese authorities, who banned the award in September before the winner was announced, according to the BBC. The committee has reformed in Hong Kong , without government backing, and plans to go ahead with the ceremony in December.
Support fading? A recent poll showed that Putin and his United Russia party are losing popularity ahead of the Russian parliamentary elections in December. And there's more bad news. Writing on a Wall Street Journal blog, William Mauldin revealed that a new poll has found Russians are increasingly aware that Putin has created a personality cult through his endless television appearance and endlessly reported action-man antics: "Many Russians take a cynical view toward Putin's video 'accomplishments'," he said. Of course, the last thing Putin would do in reaction to this news would be to pose for press photographers while pretending to be a dentist.
But there's more good news from China. Even if Russian feelings are cooling towards their prime minister, China still loves him. Chinese farmer Lo Yuanpin has become an overnight celebrity after a visiting journalist realised he bore a strong resemblance to Putin, reported Andrew Osborn in The Daily Telegraph. According to Osborn, the farmer hopes his new-found fame will lead to lucrative work as Putin's "comic double". Sadly, Osborn failed to investigate the possibility that Russian prime minister has in fact learnt to clone himself and is, as we type, busily populating the world with Putins.