Dr. Eowyn:
6,000 Russian troops have invaded Ukraine's Crimea on the coast of the Black Sea where Russia keeps its all-important Black Sea Fleet. The Russian parliament has a bill to simplify the annexation of new territories, preparing the way for Russia to take over Crimea.

Meanwhile, although the CIA and NATO reportedly had funded and encouraged the massive protests in Ukraine which brought about the crisis that brought down its government, leading to Russia's armed intervention, Obama skipped the meeting of the White House national security team on what to do about Ukraine.

Just Standard Operating Procedure from President Lucifer.

Originally posted on Consortium of Defense Analysts: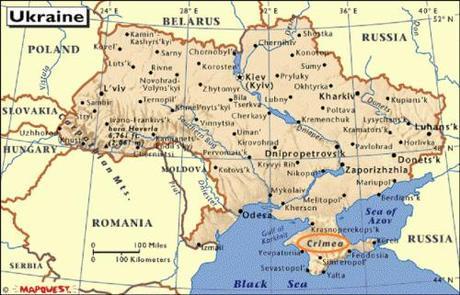 On Feb. 28, 2014, as Russian troops reportedly crossed over the Russian border into Ukraine's Crimea, a bill was introduced in the Russian parliament to simplify the annexation of new territories in what will be widely interpreted as a signal that Moscow may be planning to gain control over Ukraine's mainly ethnic Russian-populated region of Crimea.
RIA Novosti, reports that the legislation comes as Russian troops reportedly blockaded an airport in the Crimean city of Sevastopol in what Ukraine's acting interior minister, Arsen Avakov, has described as an armed invasion.