In our continuing series on Russian New Year salads we introduce today a salad that is fun to eat and to see! If you like kiwi fruit and chicken then this is a salad you definitely want to try.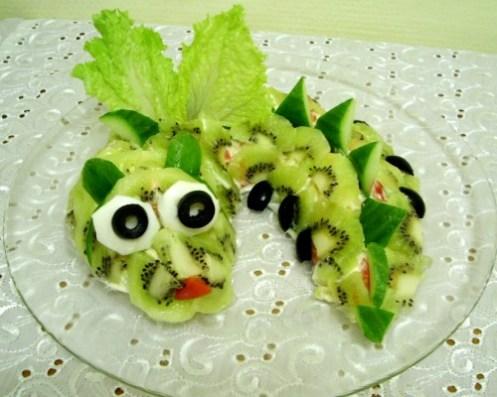 (photo: http://forum.darievna.ru/topic1488.html-sid=fdb23ca1fff4ac932461f34e125a028d)
Ingredients:
chicken fillet – 200 g
Leeks – 1
Shrimp – 200 g
boiled eggs – 4
mayonnaise-200 g
canned corn – 1 can/tin
Apple – 1
Soybean oil 1 tbsp.
soy sauce 1 tbsp.
Needed to decorate the salad:
lettuce
olives – 1 can
cucumber – 1
Kiwi – 3
Preparation:
Cut the chicken into small strips and saute with soy oil and soy sauce.
Core the apple and cut into small cubes.
Immediately mix the diced apple and mayonnaise so that the apple doesn't change color.
Cut the onion in half and then slice into thin half rings.
Chop the eggs and shrimp cut into small pieces.
Mix the corn with the rest of the ingredients and add more mayonnaise.
Spread the lettuce in the form of snake on a platter.
Decorations:
Use slices of kiwi use as scales of the snake by laying them on the surface.
Form the eyes by making circles with the eggs and olives.
Triangular slices of cucumber can be used as spikes.
Along the bottom place elongated pieces of olives. For the tongue use a small strip of red apple (or tomato).